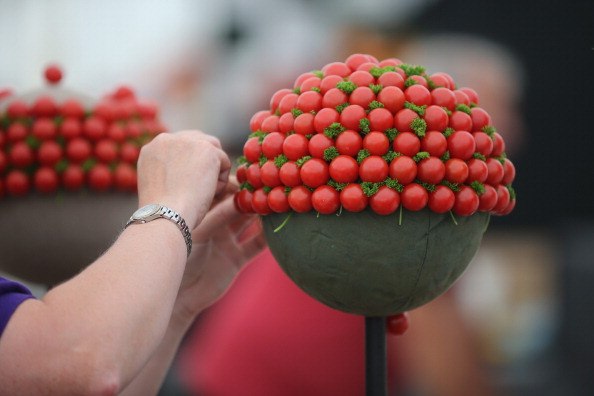 Sending someone a gift to say you love them, you're sorry or that you're thinking of them is such a sweet gesture. It shows the recipient that you are thinking of them, and that they have a special place in your heart. It's a wonderful way for you to make someone smile. The simplest of gestures are often the ones with the most impact, and that's what makes Edible Arrangements such a great choice. It's a lot like sending flowers with the exception that the recipient can eat them instead of just look at them.
Edible arrangements are exactly what they sound like; edible arrangements of fruit that are cut to look like flowers, dipped in chocolate and arranged in a lovely vase that you can take home and eat at your leisure (well, not at your leisure since they will go bad after a while). Some people love this concept and others aren't convinced. We have three great reasons you should try sending these instead of flowers the next time you're in the mood to sent a sweet gift (yeah, we went there).
Flowers Die
It's true; they do. And if you're like me, they die really fast. It's like they know I'm going to forget to water them or something and they just die when they see me. Actually, it's pathetic and I should be embarrassed. I'm not. Yes, edible arrangements "die" also. But the good news is that it never feels like someone's fault. Everyone knows fruit goes bad after a while. And as long as they get it refrigerated before too long, it's not their fault these things die.
It's Cheaper than Flowers
Okay, so that's probably a cop out, but sometimes when your are working with a budget, you'd rather send a bigger bouquet of decadent chocolate-covered fruit than a bouquet of smaller, less impressive flowers. And besides, if you go online and type, "Edible Arrangements coupons" into an internet search engine, you're going to find coupons for free shipping, percentages off your next purchase and big savings. That makes it even cheaper to send this.
You Can Eat It
If you send flowers, really only the person who receives them gets to enjoy them. If you send gorgeous fruit, someone is going to share with you. Especially if you live with them. They can't be left at the office, so you're going to appreciate the fact that you can help yourself to them at home. It's selfish, yes, but aren't most of us?
Photo by Christopher Furlong/Getty Images