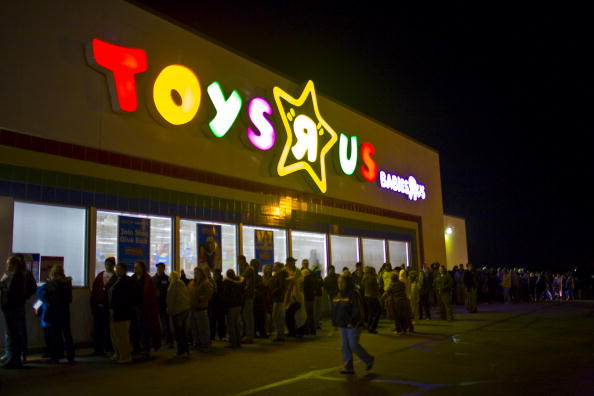 Shopping for holiday gifts is expensive; especially if you have kids in the family who want big-ticket items. Toys 'R Us might seem like the perfect one-stop shop for all your kids' holiday needs, but oftentimes their prices are high, their items aren't on sale and it's difficult for people to get in and out of the store without spending too much. If only there was a way to make holiday shopping at the world's best toy store a bit more affordable, and a bit easier to pay for.
Toys 'R Us does offer coupons, and they're usually good ones even if you can't necessarily find what it is you are looking for. Very specific items are the ones that have coupons, which doesn't help all shoppers; especially this time of year. Toys 'R Us does offer a nice percentage off coupon for shoppers throughout the year, but that's not helping shoppers who cannot afford to pay for a big-ticket item all at once. They need something a little bit more diverse and a little bit more helpful when they're shopping. And that's why Toys 'R Us brings out their layaway program around the holidays.
Toys 'R Us Layaway Options
Layaway is a service that Toys 'R Us offers to shoppers who cannot afford to pay for their purchases all at one time during the holidays. It's a sort of pay over time program that allows you to go into the store or shop online, add things to your cart you want to purchase and then pay for them while the store holds on to them. You can pay over the course of a few weeks (usually about 8 weeks) a little at a time until the balance is paid in full. Once paid in full, you can either pick your items up at your nearest Toys 'R Us store or have them shipped to your home. It's a very simple and very easy to use method that many people choose to take advantage of during the holidays. The only requirement is that you pay a deposit equal to – or greater than if you wish – 10% of your total purchase.
You can shop online or in the store, and you can pay online or in the store. You can add anything from the store to your order and have it held by Toys 'R Us in the layaway department until you are ready to pick up your order or have it shipped to you at home. It's a very simple and very convenient way to pay a little bit at a time for your Christmas shopping orders and not go overboard all in one trip. There is also no minimum or maximum amount you have to purchase to qualify for this program.
Toys 'R Us Coupons
Before we get into the coupon thing, you should know you can use coupons in conjunction with layaway orders, which does make it nice for you to be able to pay for your order over time and still receive a discount on the total price of what you're purchasing.
Coupons are fairly easy to find for this large toy store. They're available in the catalog that the company sends out to frequent shoppers. They're also available online. By performing an internet search for "Toys 'R Us coupons" you can find dozens of different coupons available to make your order less expensive. You'll find percentage off coupons, coupons on certain items and so much more.
Savings Center
Toys 'R Us has a webpage on their site that's called the Savings Center, and this is a great place to visit if you're looking for deals on the hottest toys of the season. There are weekly deals that are listed here, and there are daily deals listed here. The daily deals change frequently, but the store is happy to honor the weekly deals for a solid 7 days before they switch up their sales. No coupons needed to receive these amazing offers.
You can go online to check out the savings center to see what items are on sale this week, which items are hotter than ever and find other ways to save big on the items you most want.
Price Match
Perhaps one of the best features that Toys 'R Us offers is the fact that they will price match. See an item here that's more expensive than it is at Walmart or Target or another competitive toy store? Just take the item you want to purchase, along with proof that it's priced lower elsewhere, to the register and the company will match the price for you so that you get the best savings here.
The simple way to price match at the world's favorite toy store is to simply ask for the match. You might occasionally encounter an associate who isn't sure this is allowed or isn't sure how to go about the process and a manager might be called in. As long as you have the exact same item, proof of price elsewhere and the time to deal with this, you'll get the discount. It's just one way that Toys 'R Us helps customers better afford their Christmas purchases, and their toy purchases any time throughout the year.
Christmas Sales
Finally, if you're looking to save money around the holidays shopping at Toys 'R Us, you'll want to know that you can do this very simply by signing up for the company's emails. These emails are very easy to register for, and they often include sales and promotions, as well as coupons, for savings on items you might still need to shop for. You'll receive first looks every year at what to expect on big sales days such as Black Friday and Cyber Monday, and you'll even have the option to see what other days items are being sold at discounted prices.
You will even receive email coupons for special savings that those who are not registered with the toy store will not save. There are few requirements other than a valid email address and a few seconds' time to sign up for these emails, and you'll be glad you did.
Photo by Tom Pennington/Getty Images