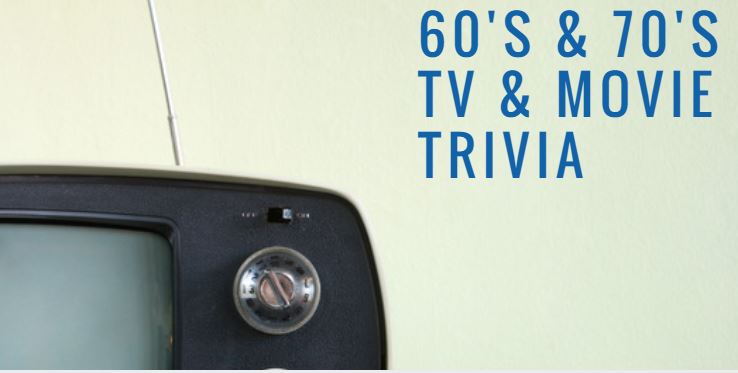 This is the name of the book turned hit movie written by Harper Lee.
Mrs. Robinson seduces Benjamin Braddock in which famous 60s film?
The Good, the Bad, and the Ugly
---
Who is the famous actor who portrayed Benjamin Braddock in "The Graduate"?
What was the name of the biographical crime film released in 1967 starring Faye Dunaway and Warren Beatty?
Who won an Oscar for his role in Cool Hand Luke in 1967?
She plays governess turned love interest of the family matriarch called Maria in a famous film from the 1960s in which she comes from an Austrian Abbey to help the Von Trapp family.
The Clampett family struck it big in oil and became millionaires who moved to what famous city in this hit 1960s television show?
Samantha is a lovely witch who falls head-over-heels in love with Darrin Stephens in this hit television show from the 1960s.
Which hit 1960s television show begins when the open song states, "Here's the story...."
Who does the Brady Bunch hire to care for their household in her famous blue dress and white apron?
The 1960s brought us this hit show in which a group of dissimilar people without a thing in common take off on a three-hour tour that went very wrong.
Zsa Zsa Gabor has a younger sister named Eva Gabor who played the role of a glamorous wife to an attorney from New York City in this 1960s television series.
This 1970s hit movie made fans terrified to go into the water for a long time after watching people lose their lives in Amity Island.
This timeless 70s movie is the one that shot iconic actor Harrison Ford into superstardom.
Sylvester Stallone wrote the screenplay, and he also starred in the hit movie.
Linda Blair portrays a young girl who begins behaving oddly when her parents decide drastic measures must be taken to save their clearly possessed daughter in what famous 1970s horror film?
"One Flew Over the Cuckoo's Nest," is the movie about a prison inmate transferred to a mental institution for evaluation stars which iconic actor as Randle Patrick McMurphy?
Richard Dreyfuss starred in this hit 70s film about a UFO that gives him a 'sunburn' of sorts he cannot explain.
Close Encounters of the Third Kind
---
She plays Mary Richards, a single woman in her 30s who lands in Minneapolis after a breakup only to get a job as an evening news producer in a  1970s television show named after her.
This is a family who made the phrase "We're moving on up, to the East side," famous in the 1970s.
This is the hit television show from the 1970s starring Henry Winkler and Ron Howard.
This hit television show that debuted in 1976 is about two best friends and roommates who have approximately nothing in common.
This hit 70s shows spawned mega-blockbuster movies about three beautiful women who work for one man doing detective work in very small ensembles.
Redd Foxx famously starred in what 1970s television show about a man and his son?
The late John Ritter famously starred in what 70s sitcom alongside Don Knotts and Suzanne Somers?
Share the quiz to show your results !
Subscribe to see your results
Quiz: 60's & 70's TV & Movie Trivia
I got %%score%% of %%total%% right
%%description%%