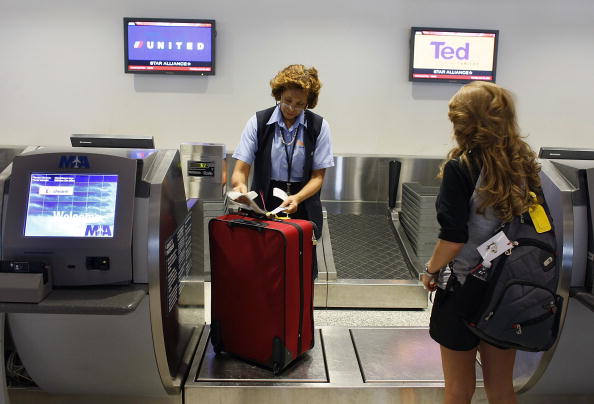 Booking flights, finding the cheapest time to travel, packing the necessities, and readying the kids are just a few annoyances of traveling by air. While airline travel is the easiest and quickest way to arrive at your desired destination, it's quite expensive. Not only do you need to worry about ticket prices, but you also need to consider extra fees on the day of your trip. No one wants to deal with running late for a flight and having to pay extra cash for a fee you weren't priorly aware of. Well, I'm here to educate you on frivolous and totally evadable fees. Here are the best ways you can avoid airline fees.
1. Carry-on Everything
Checking luggage can cost anywhere from $20 to over $50. If you're heading out on a weekend business trip or a weeklong vacation, try some crafty packing strategies to fit all your essentials into a little carry-on. For example, instead of folding clothes try rolling them into tight cylinders. You'll be shocked at the sheer amount of room you'll have for shoes now!
2. Bring Your Own Food
Traveling across the country or overseas? Long flights are synonymous with growling tummies. Sometimes, a meal is not included for free and you're forced to pay up for some nasty food. Instead of starving on your next flight try packing some pre-made lunches in your carry-on. Not only will you save some money, you'll also save your stomach from microwaved-pre-processed airline food.
3. Fly Budget Airlines
JetBlue and Southwest offer free carry-on bags and discount or waive checked bags. Southwest even allows you to check two bags for free! If you're traveling in Europe, Ryanair or Easyjet offer some of the cheapest flights I've ever seen. Last year I traveled from Rome to London (round trip) for the equivalent of $200. If you're looking to compare airline fees check out this helpful list on kayak.com: http://www.kayak.com/airline-fees
4. Weigh Your Bags
This is a biggie. Make sure to weigh and measure your bags before heading out to the airport. Overweight baggage fees can be upwards from 100 bucks if you're not careful. Instead of shifting to the side of the check-out counter and throwing on multiple sweatshirts and coats to lighten the load of your bag just weigh it in advance to avoid fees. It's super annoying to go through the re-weighing process when you're late for a flight.
5. No Wifi
Unfortunately, free wifi on air crafts is non-existent and we are forced to buy wifi for $12.00 or more to keep ourselves entertained. Instead of paying for wifi for you or your family, bring on some books or magazines to keep you occupied. If you have little ones, bring some fun electronics or good old fashion toys that do not require wifi. Back in my day, Harry Potter books, Gameboys, and portable DVD players kept me occupied for hours on long flights.
Image via Getty