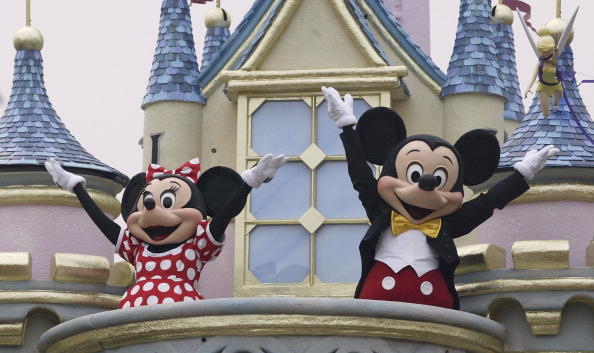 It's the happiest place on earth, that Disney World. And I'm not going to lie; it is a happy place that never fails to bring out the magic and the excitement in a person, no matter their age. I'll be 32 in a few short months, and I've lived an hour from Disney my entire life. That's 32 years of frequent Disney trips and it's been 7 years since my husband and I began purchasing annual passes for our own little (at the time) family. For us, Disney should have lost its novelty after 2-3 trips a month, but it hasn't. It's still magical, and even more so now that we get to experience it from the eyes of our children. So, that makes it the happiest place on earth. Well, almost; they still don't serve alcohol and that is, in my professional Disney opinion, a huge faux pas. After all, the sounds of screaming children, the long lines and the parade of tourists that feel it's totally appropriate to come to a dead stop in the middle of the damn street right in front of you (every single time) would be a lot happier experienced with a cocktail. But that's just me everyone.
As a self-proclaimed Disney expert, I thought I might share with you what no one dares to say. Because why would anyone want to speak ill of the happiest place on earth that's not quite as happy as it could be with a beer? Well, some of the attractions at Disney are highly overrated and not worth the time and effort it takes to see them or experience them. And I'm here to tell you which ones. It's going to save you time standing in line, money by not going to certain places and it will provide you more time to go back to your resort and refill that water bottle filled with rum you've been mixing drinks with all day long relax with your family.
Disney Fireworks
Okay, let me just start by saying this; fireworks are fireworks. Sure, Disney has great ones, but you can skip the hoards of people and being bumped into, being smothered by the crowds and the inability to move because it's so crowded on Main Street and just head over the your hotel and watch the fireworks from there. The Contemporary, the Grand Floridian and the Polynesian have some of the best views of the fireworks. And if you're staying at the Reunion Resort, you can head up the to the top of the main tower to the rooftop pool and see the fireworks beautifully. Or you could wait until the 4th of July and watch them at home. They're just fireworks. Disney doesn't actually make them more magical.
The Disney Dining Plan
A flat rate to dine all day at Disney? Sign me up now! Or not, because it's not worth it what with all the exclusions, limitations and rules. Trust me when I tell you that you are better off just paying for your own food. Skip the meal plan.
The Parades
Okay, I'm going to catch some flak for this one, but I don't care. The daytime parades are especially not worth seeing. The nighttime parade might be worth a look around, but it's not even the most exciting part of the park. People are gathered 30 deep lining the walkways of the park during the parades, which aren't that awesome, and lines are shorter than ever for rides at this point. Take advantage of this and ride the rides.
Peter Pan's Adventure
This ride, located in Fantasyland, is so overrated it's not even funny. It's got the longest line of all, and it's not even a good one. My belief is that it's really the only boy-centric ride in the park, but it's not worth the hour long wait; trust me.
Stitch's Great Escape
Half your kids won't be tall enough to get in, and the ones that are will hate you forever for making them endure this painful experience. Okay, so it's not that bad, but it's not that good, either. Skip the lines and head up to the PeopleMover, which is something that's also not exciting. But there is never a line and the kids love it.
Epcot
What a bore. Epcot is literally the least fun place on earth in comparison to Disney. You can drink here, which is nice, but that's because you have to be a little buzzed to enjoy just about anything here. My advice is to save this trip for fall when the Food and Wine Festival comes to Epcot; that's always fun.
Hall of Presidents
If you've seen their photo once, you've seen it a million times. I'm just saying. It's not worth the time, and it's not worth the effort. Move on to the next attraction, please.
Disney's Boardwalk
I'm going to be a little bit honest with you here and tell you that the Boardwalk is a bit small, not all that exciting and it provides you with very little to do. Now, we love to go and dine at the Riverboat Restaurant and we do like to rent the Surrey bikes and drive around, but there's little else that will entertain your family here unless you're dining.
The Carousel of Progress
If you're in need of a good old-fashioned nap, here you go. And it's cool and air conditioned, which does make this worthwhile in the heat of summer. Otherwise, totally boring, irrelevant and not worth the time it takes to get to a seat and wait for the non-adventure to begin. Also, this is a guaranteed way to get your kids to whine.
Disney in the Daytime
It's not so much an attraction as it is an occurrence, but take it from me; visiting Disney in the daytime is a waste of time. If you want less heat, shorter lines and smaller crowds; wait to go into the park until 6 pm. Stay at the hotel, enjoy the pool, explore Orlando until then and head to Disney late. They're usually open until around midnight during the summer (check hours beforehand, however) and go in the evening.
Of course, this works for us as passholders because we pay for passes, go three times and they've paid for themselves and it doesn't matter if we spend an hour in the park or 8 hours in the park. But it's the best time to visit because it's always a much happier than happiest place on earth when you're not hot, sweaty and ready to drop kick the next person to come to a complete stop in the middle of walking traffic.
Photo by MN Chan/Getty Images