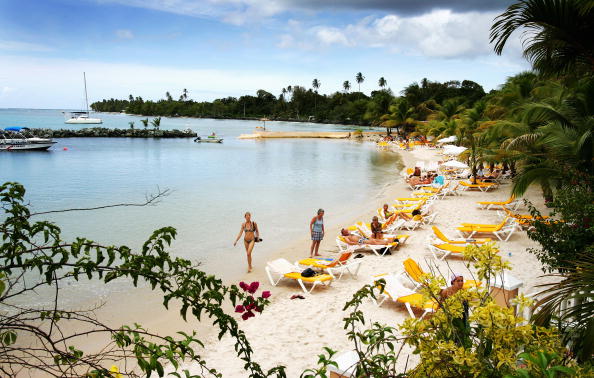 There is such a significant difference between a vacation and a trip, and I'm happy to explain. A vacation is a vacation. You get to go somewhere fabulous, relax, unwind, enjoy yourself and live basically stress-free as long as you are there. The most stressful aspect of vacation is wondering which cocktail to order next. A trip is something you take with the kids. It might be to the same exact location you took your last vacation without the kids; but with them it turns into a trip. Why? Because traveling with children is not as enjoyable as one might believe. Sure, my husband and I travel with our four kids regularly, but that doesn't mean it's our favorite. We ADORE trips with them, but there is no relaxation. It's four kids around a resort pool, four kids in a hotel room, four kids off their schedule and out of their beds and in a place that's much smaller than home.
Even if you splurge on a suite as we tend to do (or just ask for an upgrade at check-in that's sometimes free and sometimes only a nominal fee for a suite), it's still a smaller space than you're used to at home and it can be quite stressful to have small kids out of their comfort zone. So that's the different, to sum it up, between a vacation and a trip. But if you are looking to book a trip with the kids somewhere fabulous, allow me to tell you that an all-inclusive is the way to go. These resorts include everything from your room to your taxes to all gratuities, resort activities, food and beverage that you enjoy for the duration of your trip. And with kids, unlimited dining is a necessity. Also with kids, unlimited cocktails are a necessity. Here are my favorite picks for the best all-inclusive resorts for families, some I've been to with my own family and some that were recommended by Travel and Leisure and Fodors.
IBEROSTAR Bavaro – Dominican Republic
A two-story bungalow is going to give you all the space you need to make your family vacation all the more fun, and that's what we have to offer you right here. This kind of vacation is exactly what the doctor ordered, and that along with the myriad of activities for the entire family, is what makes his affordable all-inclusive to-die-for.
Almond Beach Village – Barbados
How about taking the kids somewhere they can take part in Jr. Chef classes, play the limbo and enjoy themselves while mom and dad are busy at the adults-only locations around the resort? It's a good combination of fun and fantastic for the entire family, and that's what makes this location so amazing.
Aruba Marriott Resort
Located in Palm Beach, the Marriott here is fabulous for families. There are camps and hangout locations for kids that are well-monitored and secure. Families can have fun together or separately here, and the views are nothing short of spectacular.
Beaches Turks & Caicos Resort Villages and Spa
This is a personal favorite of ours thanks to the villages. You get bigger rooms, more space and the option to put the babies to bed and close the door with the baby monitor in hand so that you can still enjoy the night. Room service, fun with the bigger kids and relaxation happen here. There is also an impressive on-site water park that really exhausts the kids and has them falling asleep hours earlier than bedtime that the kids love.
Coconut Bay Beach Resort – St. Lucia
Kids love a lazy river, and that's what makes this all-inclusive awesome for the kids. It's fantastic in that it's got everything you might ever want or need to have a great family vacation, and it's just perfect for those who are looking to have a good time while in the area. It's the kind of location that makes travel more fun, and you're going to love every second of family time here.
Melia Caribe – Punta Cana
This resort has everything from a Fred Flintstone theme park to adult activities that will keep the entire family happy. And if you want to make this trip into a vacation, we highly recommend you consider this location as it does provide ample entertainment for the entire family. After all, isn't that what vacation is all about at the end of the day?
Club Med – Punta Cana
There's a splash park and a baby gym among all the other amazing amenities at this gorgeous resort, which is why it's such a family favorite. We haven't been here, yet, but we have it on our short list as it's been highly recommended by so many others as the kind of place you just have to visit no matter what.
Franklyn D. Resort and Spa – Jamaica
What is great about this resort is that it's totally family-oriented and it comes with an amazing view. Clubs for kids, a water slide, a playground and everything you could ever want for family fun is found right here at the resort, and you're going to love every second of your stay here.
The Verandah Resort and Spa – Antigua
This is another personal favorite of ours. We have not taken the kids here, but we do enjoy the resort. It's perfect for families, and we do have a plan to take the kids back in the future when the twins are a little older. There is something here for everyone, and that makes the location even more amazing than the views.
Hyatt Regency Resort and Casino – Aruba
That's the second location in Aruba you're going to find here, and it's worth every penny you'll pay to make this your home for a week or so. With activities that are catered to kids from 3 to 12 and everything in between, it's the perfect destination for the entire family to enjoy at their leisure, and it's going to make the entire family happy.
You'll note that I did not include the Atlantis Resort in Nassau, Bahamas. We do love the resort, but we find that it's always so crowded and busy that it's almost difficult to enjoy anything and relax – but it's amazing and very child-friendly, so there is no harm in trying!
Photo by Chris Jackson/Getty Images