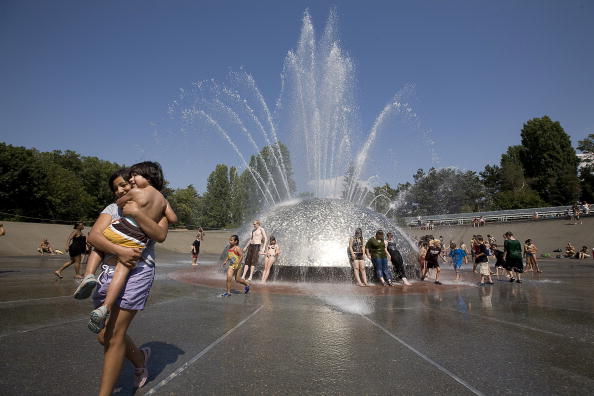 As someone who lives in the great city of Seattle, Wa., I can tell you firsthand about how much there really is to do around here. While the perception tends to be that all the Northwest has is a bunch of gray skies and rain—which is only partial true—the facts show that there are still plenty of days in which us Seattleites get out and enjoy the sun to take in the surrounding areas. And for those who like to keep things on the cheap, I'm giving you a few options of things that one can do whenever they make the trip up to Seattle. In fact, when my friends or family members come visit me for a few days, it's nearly impossible to pack everything in because there's so much to do. So grab a pen and paper and mark off what tickles your fancy, because here are 10 fun things to do for free while in Seattle.
10. Metropolitan Market
It might be a grocery store, but it's not your typical Kroger here. That's because the Metro Market actually offers visitors a monthly cheese class and wine tastings—all for free! So while you might not be in the hotbed areas like Napa or Sonoma for both delicacies, Seattle's Metro Market can make you feel as though you are with their community pairings they offer.
9. Seattle Public Library
I know that making a trip to a library might not be at the top of someone's list, but, trust me, the Seattle Public Library isn't your ordinary supplier of books. Standing eight stories high, the public library has a number of different adventures to check out—and I'm not talking about the type of stories. Colorful hallways, incredible city views and other fantastic art awaits around nearly every corner.
8. The University of Washington's Campus
I don't know about you, but I absolutely love exploring college campuses—and it's not to remind myself of how much I miss my early-20's. Thankfully, Seattle happens to be home to quite the beautiful campus—the University of Washington—which sits in the U-District for visitors to walk around and take in the history of the school. With a renovation to the football stadium just recently completed and more work being done on and around campus, U-dub is a great spot to walk or drive to and help relive the glory years of being in college.
7. Various Art Walks and Street Markets
Whether it's up in Fremont or Ballard or down in Pioneer Square, there are seemingly art walks and markets nearly every single weekend in Seattle—it's just a matter of finding them. Throughout the summer, they are nonstop, with both typically incorporating some of the local music in some way. So if you're looking for the best in local artistry and homegrown food, take a quick stroll to any of the popular, electric neighborhoods to see what you might be able to head home with.
6. The Center for Wooden Boats
For those who love to sail, the Center for Wooden Boats is a must visit when in Seattle. Situated on Lake Union in the South Lake Union area of the city—which also happens to be where Amazon is expanding into—admission is free for those who find their way to the docks, allowing an up-close look at the collection of non-motorized boats. Free sails also take place every Sunday, so make sure to get there early or set a reservation a day in advance to take part.
5. Discovery Park
One of my personal favorite places in the entire city, Discovery Park is a public meeting place that has some of the best walking trails—and waterfront sights—in Seattle. In addition to the incredible trails that are typically full of runners and walkers each weekend, the park is located in the Magnolia neighborhood, which is a quaint spot for families with young kids and dogs pretty much at every turn. So when finished with a two-hour stroll in the park—which isn't uncommon to do—make your way to "The Village" in Magnolia to enjoy some of the local coffee and restaurants.
4. Ballard Locks
You might not think that watching a dam would be all that exciting, but that's because you've never been to the Ballard Locks before. Completed in 1917, the locks link the Puget Sound with both Lake Union and Lake Washington, serving as the entrance for boats both large and small. Also a critical link for salmon in the area, the locks give visitors the option to go beneath the walkways to view the fish from underwater—much like an aquarium would—while people still up top will occasionally catch a glimpse of the salmon jumping above the water, which is a cool sight to see.
3. Seattle Center
Although visitors can purchase a $65 City Pass which takes them to various hot spots in Seattle, the most efficient way to take in all the sites is by going around and doing them on your own. One of those places is the Seattle Center, which gives guests a view of the Space Needle, various art galleries and the International Fountain. Located near the bustling Lower Queen Anne neighborhood, the Seattle Center is close enough to walk to on a nice day, while also nearby restaurants and bars to complete the trip after taking in the scenes.
2. Seattle Waterfront
It doesn't matter if you're down by the Pike Place Market and Olympic Sculpture in the tourist areas, or on the more intimate beaches like Madison Beach or the Arboretum, nearly all of Seattle is surrounded by water. With breathtaking views of mountains and other landmarks, there are many waterfront options for people to enjoy no matter what time of year it is. If you need more proof, just look at my Instagram account—which has well-documented the sunsets and views from the multiple waterfronts in town.
1. Pike Place Market
You know where everyone have seen people throwing and catching fish? Yeah, that's at Pike Place Market, which, as the name entitles, is a pueblo market in which people can visit to pick up some of the best local items in the city. Whether it's fresh seafood that was just caught earlier that day, flowers that still smell like they're in the garden or something to put on the wall that was made by local artists, Pike Place Market is a must-see—especially with it's vicinity to the other tourist attractions and waterfront.
Photo by Stephen Brashear/Getty Images