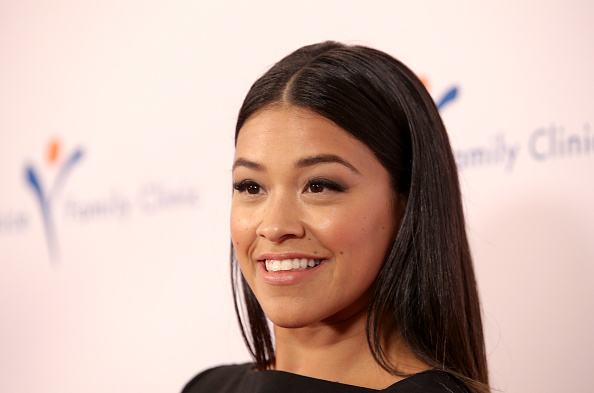 While there have been many new and notable faces being recognized throughout this TV season, from Constance Wu to Sam Heughan, no performer has become the breakout star that Jane the Virgin's Gina Rodriguez has. The star of a CW series, whose concept (virgin in her early 20s is ancidentally artifically inseminated) was mocked as soon as it was announced, there was no reason to think that Rodriguez or Jane would be taken seriously by critics or audiences. However, he we are, about a month away from the announcement of Emmy nominations, and there's a very good chance that Rodriguez could get recognized. But we think she deserves to be more than just a nominee this year; we want to see Gina Rodriguez actually win the Emmy for Outstanding Lead Actress in a Comedy Series, and these are ten reasons why.
She Can Do Comedy
Throughout Jane the Virgin's first season, Rodriguez had to play a lot of Jane's moments straight. Compared to characters like Rogelio, or Sin Rostro, or even her mother, Xo, Jane was more relaxed and grounded, but she still had her moments of fun, such as anytime her mind took us into one of her telenovela-like fantasies. And anytime a scene called for Rodriguez to be funny, no matter how big or subtle she was supposed to be, she delivered, proving that she was able to elicit laughs from the audience quite easily, even if she had less opportunities than other actresses on more traditional network comedies.
She Can Do Drama
While Jane the Virgin is most certainly a comedy, some of its richest and most memorable moments are actually dramatic, and Rodriguez nails every single one she's a part of. Whether Jane's concerned about what type of mother she'll be to her child or devastated over he break-up with Rafael (Rodriguez in that hallway scene, after Rafael initially ends his and Jane's relationship, turns me into an emotional wreck every time I watch it), Rodriguez never fails to find the honest, real emotion in the scene. Despite the telenovela craziness that may surround Jane's life, these quieter, more intimate exchanges work so well because of the depth that Rodriguez's performance provides them.
She Can Do Romance
Jane the Virgin fans constantly keep switching from #TeamMichael to #TeamRafael, going back and forth all the time, and while that's in large part due to the writing on the show, where both Michael and Rafael are fully developed characters, with good qualities and bad ones, it's also because Rodriguez has been able to produce fantastic romantic chemistry with both Brett Dier and Justin Baldoni. You fully believe that Jane is torn between these two men in her life, and you're not sure which relationship is best for Jane because of how vibrant and unique Rodriguez makes each one; with Michael, she allows you feel to feel the warmth and comfort of that long-lasting connection, but with Rafael, Rodriguez instills a passion and wonder in Jane that we never see when she's around anyone else.
Without Her, There Is No Jane the Virgin
And by this, we don't mean that there's just no Jane, thus the show's title doesn't work. Rodriguez is really the glue that keeps everything on the series together. Jane's involved, at least in some capacity, in pretty much every storyline on the show, from her pregnancy to the reignited romance between her parents to the twists and turns involving Sin Rostro, and Rodriguez is able to balance out all the extremes, from the uproarious comedy to the heartfelt family drama. Her acting, no matter what time of situation Jane's in, always comes off natural and keeps the series grounded even when it seems like it could be heading too far into one direction or the other.
It's Time For Someone New to Win
We all love Julia Louis-Dreyfus and are not taking anything away from the terrific work she does on Veep, but similar to how people are anxious for any show, new or otherwise, to beat out Modern Family for Outstanding Comedy Series, they also want to see new actors and actresses win the awards that Emmy veterans have taken home year after year. And while it would be nice to see any new face, such as Fresh Off the Boat's Constance Wu or Unbreakable Kimmy Schmidt's Ellie Kemper, win this  ear, Rodriguez is who we'd pick if we could fill out an Emmy ballot.

She's Authentic
On screen and off, Gina Rodriguez is one of the most genuine actresses working in the TV industry today. Part of this may have come from her struggles to find a role that she felt really suited her, a character that wasn't just a Latina stereotype but a rich and real person, but Rodriguez exhibits such humbleness and gratitude that it's impossible not to root for her, just like we do for Jane. In an industry that's all about fake personas and how people are perceived rather than who they actually are, Rodriguez is nothing but herself, and that authenticity translates into her performance on Jane the Virgin as well, which is one of the many reasons why she's become such an acclaimed actress in a short space of time.
What It Would Mean For Diversity on Television
"Diversity" is the new word that network executives love throwing around nowadays, as they attempt to appeal to a wider variety of audiences. However, true diversity doesn't simply mean putting one black person on a show full of white people; it's about a network allowing a series to fully embrace and embody a culture that is specific and different than the main one that is perpetuated on television. Jane the Virgin has been able to capture that in its first season on The CW, and Rodriguez winning the Emmy for Outstanding Lead Actress in a Comedy Series would actually signal real change in the industry.
What It Would Mean for The CW
There's no denying this fact: an Emmy win for The CW would be huge. In fact, an Emmy nomination alone for The CW would be major for the network, as it has never received any prominent Emmy nominations since it launched in 2006. Rodriguez winning would prove to those who still don't consider The CW anything special that it's a network to be reckoned with, and it would also hopefully convince more people to watch Jane the Virgin and, in general, help bring more viewers to The CW's awesome slate of shows.
We Would Get to Hear Another Great Speech From Her
This reason is kind of simple. Do you remember how awesome Gina Rodriguez's speech was when she won the Golden Globe earlier this year? Now imagine just how fantastic her speech would be if she won an Emmy, an honor that many would argue is much higher than a Golden Globe win. That's a speech we desperately want to hear.
She Truly Deserves the Award
Putting all of these other reasons aside, I deeply and honestly believe that Gina Rodriguez delivered the best performance of any actress in any comedy series on television that I watched this year. There was never a moment when her acting did not captivate me and make me feel something, whether it was joy, sadness, excitement, or a whole host of other emotions. It's because of this dynamic performance and the effect that Rodriguez has had on critics and regular TV viewers alike that she truly deserves the Emmy this year. Now, come on, Emmy voters. Don't let me down.
Have you checked out Jane the Virgin yet, and if so, have you fallen in love with Gina Rodriguez and her incredible talent like we have? Comment below and let us know.
Photos by Mike Windle/Getty Images for Venice Family Clinic & Kevin Winter/Getty Images