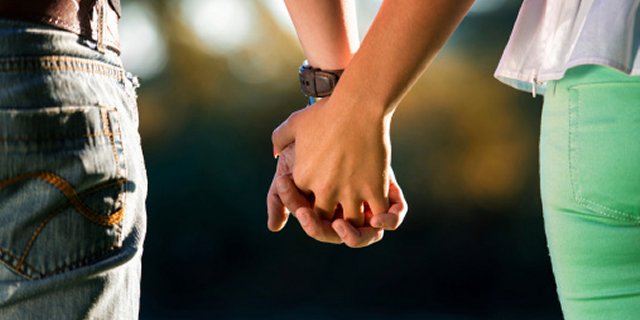 Relationships are a dime a dozen in Tinsel Town, and it seems like everyone's dated everyone in the business. In today's conditions, celebrities can't even be spotted out at the same place together without rumors of romance swirling around like bees to a honeycomb! But even just a few years ago when social media was scarce and even nonexistent, it was easier to be a little more under the radar and for celebs to have a love life. We know most of the official celebrity relationships and hookups that have taken a place in history in Hollywood, but there are a ton more that have only recently been exposed – and they're pretty surprising!
Here are 10 former celebrity couples that you probably didn't know about:
1. Ashton Kutcher and January Jones
Before his big marriage – and eventual divorce – to Demi Moore, Ashton and the Mad Men star were once an item.
2. Seal and Tyra Banks
Guess he's always had a thing for models, huh? The crooner and model-turned-talk-show-hostess had a super quick romance in the mid-90s.
3. Ryan Reynolds and Kristen Johnston
We would never have known that the heartthrob and the actress best known for her stint on 3rd Rock from the Sun dated in 1999.
4. Seth McFarlane and Amanda Bynes
In 2008, Seth and Amanda were spotted "hanging out" and spending a great deal of time together, despite a 12-year age difference.
5. Oprah and Roger Ebert
The talk show host and the late-movie critic went out on a few dates back in the day.
6. Kristen Bell and Matthew Morrison
The two former NYU students dated briefly during their time at the university.
7. Courtney Cox and Michael Keaton
The former Batman and Friends star were quite the couple from 1989 to 1995 before she got together with Scream co-star David Arquette.
8. David Arquette and Drew Barrymore
Before he met his future wife Courtney Cox, David romanced then-wild child Drew in 1991.
9. Lisa Kudrow and Conan O'Brien
The two hilarious entertainers went out briefly before realizing they were better off as just friends. Oh, to be a fly on the wall during those dates!
10. Lance Armstrong and Ashley Olsen
The Livestrong athlete and actress/fashion mogul had a brief fling in 2007. As a young Michelle Tanner once said: "Ew!"
Image via Thinkstock