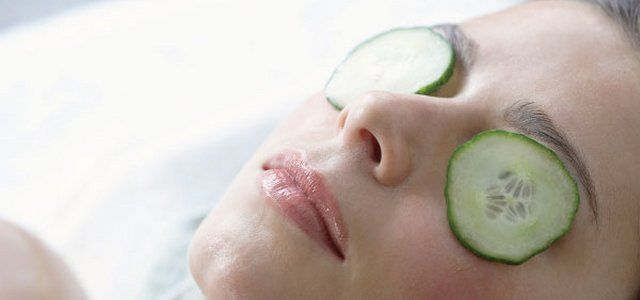 Growing old is simply a part of life, but who says we can't age with grace, beauty, and smooth skin? I'll tell you who…NO ONE. Ladies, stop stooping so low as to buy extremely expensive anti-aging serums, creams, and lotions. If you're just noticing some crow's feet or a few under-eye lines, don't up-and-rush to the closest Botox clinic! Ditch the steep-priced-products and opt for natural wrinkle remedies. Here are five DIY tips to remove wrinkles from your eyes.
1. Coconut Oil
Coconut Oil is rich in essential vitamins and antioxidants which highlight the skin's elasticity. The moisturizing properties of the oil remove dead skin cells and prevent them from returning. Massage a bit of coconut oil under the eyes each night before bed and you'll begin to see results in a week's time!
2. Rose Water
While rose water is often used as a subtle perfume, it also has tons of skin rejuvenating properties. Dip a cotton ball in the essence and dab it beneath your eyes; the anti-inflammatory properties will reduce dark circles and the astringent qualities will cleanse pores and repair wrinkles.
3. Grape Seed Oil
Women often praise the wrinkle-reducing magic of grape seed oil due to it's richness in antioxidants and nourishing qualities. Gently massage the oil beneath your eyes each night to achieve results. After a few weeks you'll notice your skin will bounce with elasticity and shine with that fresh, dewy glow.
4. Vitamin E
During your night-time routine squeeze the oil from a Vitamin E capsule and apply the substance beneath each eye. Smoothing on the thick Vitamin E oil every night will fill your pores with moisture and make your wrinkles far less noticeable over time.
5. Witch Hazel
This alternative remedy includes a solution made from the highly praised Witch Hazel herb. The water-based solution contains anti-inflammatory properties similar to white tea and is said to tighten and lift the skin over time.  As an added plus, cleansing the face with Witch Hazel clears your complexion and smells wonderful too!
(Image via Getty)