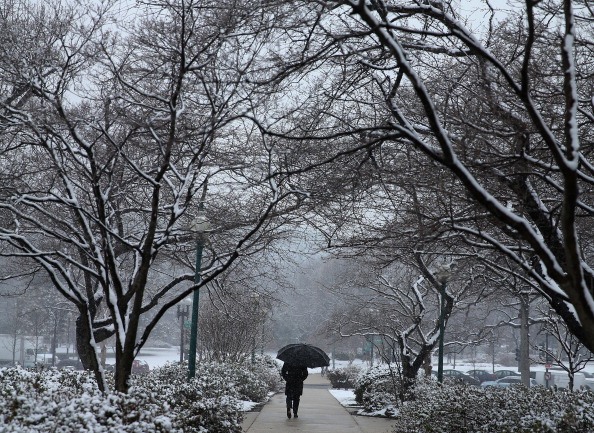 Winter can be such a drag once the holidays are over. The excitement of the Christmas tree's twinkling lights and the sound of Christmas music playing softly (blaring incessantly) in your ear while you shop and work; once that's all over, the cold, white, winter weather just seems to lose its magic. It's just cold and miserable – not beautiful and amazing. Unfortunately for those of you who live in cold and miserable climates not here in Florida, you have to find things to do to keep your kids and yourselves entertained in inclement weather, and it's not always an easy task. Fortunately for you, however, we have a few great suggestions that will help you keep everyone happy, healthy and relatively un-annoying as the winter wears on. It's only officially been winter for about a month, but that doesn't mean we have to suffer through the next two months without any fun. And by we, I mean you; I live in Florida – my winter is lovely.
Ice Skating
It's simple and it's fun. Of course, you may not have any skill when it comes to skating, but that is neither here nor there. You don't need skill to enjoy some time on the ice if your kids are the ones who are having all the fun. There are a myriad of places available in most parts of the country in which you can head outside to an ice skating rink and enjoy the beautiful weather and some silly antics. You don't have the join the kids, but you can if you'd like.
Ice Fishing
If you live somewhere really cold and very wintery, this is a great sport and activity to try. It might not be something you think you'd find interesting, but you shouldn't give up on something before you know for certain whether or not it's a good idea. It's a sport not everyone gets the opportunity to try, so you should if you can. It can be something you pay to do with professionals who can show you the ropes, and it can be something you do just for the fun of it with the family if you know what you are doing.
Have a Snowball Fight
Snowball fights are the best because you get to get out of the house and take out your aggression on someone else in the nicest possible way. This is the way that you're going to let loose, get some serious exercise and enjoy every moment of your time together. And you can aim at the person who left the empty cereal bowl in the pantry first. That's going to work just nicely.
Bon Fires
It's cold, so build a fire. It's one of the easiest things you can do, and it's free. All you need is a fire pit and something to burn. We like homework, ourselves. Kidding. Your kids might need to use that at some point, so maybe just their old teacher's notes would work just fine. It's even more fun to build a bon fire if you take the time to get some graham crackers, marshmallows and some chocolate. Everyone loves a good s'more. Grab a cocktail or a cup of hot chocolate, your stick for roasting marshmallows and get outside to enjoy a great fire and some serious fun.
Sledding
Come on; who doesn't love a good sled? We all do; it's fun – and fun is good. Go sledding. Release your inner child and begin to enjoy the cold weather and all that it has to offer those who are in the mood for some fun in the sun – or snow. Sledding is virtually free of charge so long as you have a sled and a few minutes to head outside and find an incline somewhere. Just remember to dress the part so that you don't end up losing your fingers to frostbite. That would really take a negative toll on the rest of the wintery weather.
Sight-seeing
Believe it or not, it's fun to go sight-seeing when the weather is cold and miserable. You can go on a short road trip somewhere nearby you've never been. Perhaps you can even go somewhere you've been a million times that's on the coast. It's a completely different experience when you see something for the first time when there aren't a ton of people around, tourists getting in your way and all types of kitschy little shops open to tempt you into spending money on things you don't want or need since you live nearby. It's a new experience, and new experiences are often the most exciting.
Movie Nights
Movie nights are a fun and almost free activity at home during the winter. You will find that there are few things as enjoyable as spending some time at home, cuddled up on the couch in your pajamas watching movies with the entire family. You can rent from the red box or just go through your old collection and choose ones that make you think of the good old days. You get bonus points for having popcorn and chocolate on hand.
Netflix Days
Netflix is a great way to enjoy some quiet time on a cold winter day. It's also a great way to unwind and relax after a long day of enjoyment derived from any of the great activities you see on this list. For example, you might spend the day snowball fighting and building snowmen only to realize that a fire and some Scandal are a great way to unwind and relax with the family – or at least with the one you love most.
Go to the Library
The library is fun for anyone, anytime of the year. How wonderful it is to become lost in the stories unfolding between the pages of books that have been read hundreds of times. How fun it is to get lost in the imagination and creativity of others as they tell their stories while you catch a glimpse into their mind and what they are thinking.
Build a Snowman
We all know your kids are dying to build a snowman. If they're anything like mine, they are pounding on one another's doors asking the question that makes us want to roll our eyes, "Do you want to build a snowman?" from Frozen the movie we wish would go away already. Love it, but it's true. A snowman is a great idea if you live somewhere cold and snowy (did I have to point that out?). I can tell you that my kids would give anything to build a snowman. Unfortunately for them, I don't like the cold.
Photo by Mark Wilson/Getty Images