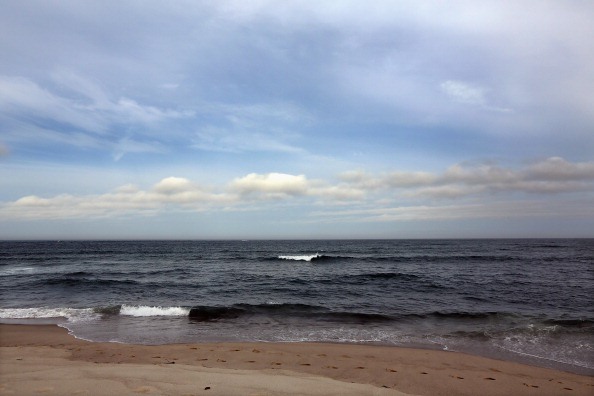 If you're anything like me right now, you're working. Now, I'm going to readily admit that I work from home so I'm probably more comfortable in my home office staring outside at my gorgeous yard and the beautiful weather knowing that in about an hour I'm going to take a much needed break (what, I've been at it since 5 am at it's already 10:30) and head out onto my back deck to work on my pasty, sad Florida-girl legs. But still, I'm working. I have babies napping, kids to pick up from school later today, a load of laundry that certainly isn't washing itself and someone has to come up with something to make for dinner. What I'm not doing is lying by a resort pool enjoying some gorgeous weather or sitting on the beach, which is sad since it's only 7 miles away. I'm not on vacation. I've got a few planned in the coming months, but I'm not on vacation. I wish I was on vacation 24/7 because that would be awesome; but I'm not. Those who are planning a quick trip to California to unwind and relax may stay at one of those hollywood sign hotels even for just a weekend.
I know that m any of you are probably doing what I often do, which is dream of great vacation ideas while not on vacation. They are great ideas. They're amazing ideas, and they're actually the force behind what usually has me planning a really amazing vacation. I dream up things my husband and I can do together and places we can go, I think of places we can take our four small kids, and I think of places we can go with our group of 5 other couples we love and adore when we have our annual mommy and daddy only getaway with them (and then I remember a trip to Jamaica resulted in twins and I consider chancing locales to any place that does not have serve a Rum Runner for breakfast – just saying (I know, I could say no, but I won't and we all know it). Here are some of my favorite amazing vacation ideas when we are not on vacation.
Cape Cod
I've never been, and it's on our short list. I often plan a mental trip here and then realize that it'll have to be next year since we already have this year booked up. And somehow it always gets pushed back and back. But the idea of a romantic quick weekend getaway at a fabulous B&B with too much wine and an abundance of seafood does sound like a dream.
New York City
One of my husband and I's favorite date night getaways; flights are cheap from where we reside so it's not like we have to make it a super long vacation. We usually just go for a night, do some serious shopping, enjoy an amazing dinner and really just enjoy ourselves. It's a nice, quick and refreshing getaway.
Hawaii
When we want to do something a little longer, we love Hawaii. We haven't been in several years, but it's such a relaxing location and it's perfect for a big anniversary or birthday. It's lovely and wonderful, and the concept of island hopping is really a good one. It's a place you have to go at least once in your life.
European Cruise
Also something we've never done that I think would be fabulous. The idea that you can spend a week or so traveling throughout the many different countries in Europe and seeing the best sites without needing several flights, hotels and rental cars is really appealing to me. When our kids are older and we don't mind leaving them as much for this length of time, we will do this. And when they are much older and appreciate things like culture, we will take them with.
Bahamas Cruise
Being a born and raised Floridian who lives only an hour from one cruise port and two hours from two other cruise ports, Bahamas cruises are how we spend many weekends each year. They're cheap, fun and relaxing and we feel no pressure getting off the boat with the masses since we've been a million times. If you've never been, it'll be a great introduction to the Caribbean and to cruising.
Beach House Rental
This is an idea that's so nice for everyone. It's great for families since it's something everyone will enjoy with their own space. It's great for groups, and it's great for people who hate going to the beach and then getting the car covered in sand, going home, cleaning everything and then doing it all again. It's so much nicer just to go to the beach from the house right next to the beach. It is the ultimate in the form of relaxation.
The Outer Banks
Anyone interested in history, quaint little towns with adorable shops and waterfront wine bars, boat rental days and beach days will love it here. It's relaxing, beautiful and just perfect for families, friends and couples. We love to go here several times a year with the kids and even alone because it's just the perfect getaway and it's close to home.
Savannah
One of the most beautiful places in the world, Savannah is just filled with culture. Beautiful scenery and architecture, lovely parks and trees, water, food and southern hospitality make this one of the most amazing vacation experiences in the world. And it's close enough to Charleston for a few nights up there, too, which is another amazing experience for all.
A House in the Mountains
Renting a house in the mountains in the dead of winter is something we'd love to do one year when the kids are a bit older. It seems like something they'd very much enjoy, as would we. Skiing, sledding, cooking at home, beautiful views from a large cabin; it seems like the ideal getaway for a big family.
Norris Lake
This is a gem; a hidden treasure that most people have never heard of and those that have adore endlessly. We – as in our entire family and extended family – meet here every summer for a week. Location north of Knoxville in the mountains around the Cumberland Gap, this gorgeous area (we rent a house in the Deerfield Resort that's right on the water) is perfect. You literally pack nothing but the clothes you wear there and home, swimsuits and pajamas. You stop for groceries and everyone takes a turn cooking at night and in the morning, fun stuff for lunch and all day long is spent on the boats. We ski, we tube, we swim, we cruise; it's relaxing, amazing and every single one of us loves it to pieces.
Photo by Mario Tama/Getty Images