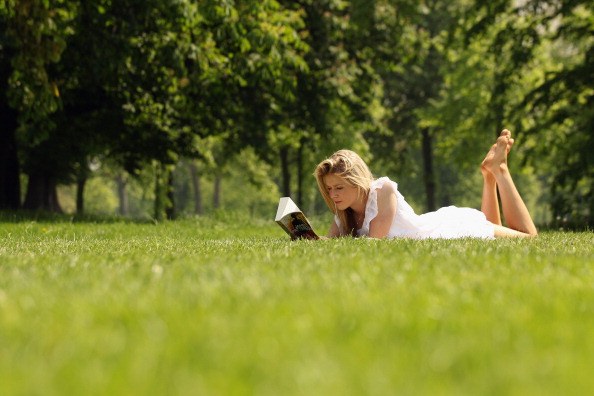 Four kids ages 7, 4, and 15-month-old twins, a husband (age 32), 3000-square feet to keep clean, a 4-year-old that cannot use the bathroom without requiring that walls, towels, counter, toilet seat, toilet front and floors be cleaned, washed and mopped, a cat, a family and a full-time job from home – I love every second of it (save for those potty issues) and I wouldn't trade any of it for the world. I am a firm believer that the key to having it all is knowing you already do, and that makes me one happy woman. My life is good, and I'm appreciative of all my dreams come true. But at the end of the day, I need to unwind and relax. From 5 am to 8 pm, my life is in a constant state of motion. I have a home office, but I work most standing at the counter in the kitchen writing here and there while the kids run around.
I don't sit. I don't relax – there is no time for that. The only time I have for me during the day is two hours in the morning when everyone is asleep and I'm showering and making myself look good for the day. And then that blessed two hours from 7:30 pm when the two oldest are finally in bed and we can shower and relax. But even that time is about spending time with my husband. So what's a mom to do? Well, I have two options. I can make some time for myself or I can lose my ever-loving mind and go completely crazy. It's really my choice; and I choose time for myself. While my husband keeps me booked for massages and facials and pedicures to make me feel good, date nights are frequent and we have a great time with the people we love most, there are a few ways I like to unwind at a moment's notice. And the best part about my favorite ways to unwind is that they cost very little – or nothing.
Play Time
I love to unwind after a long and stressful day with a little play time – even with my kids. We like to take the golf cart for a ride around the neighborhood. We have fun. We stop and pick flowers. We stop and talk to people, we stop and check out animals and shapes in the clouds and new things we've never seen before. The kids love it, and I love it. It makes the end of the day seem a little bit more relaxing and it gets us out of the house.
Read a New Book
There is nothing that makes me feel more relaxed than when my husband brings me a glass of wine and my Kindle and says, "Go relax," while he handles bed time and bath time for the kids. On a rainy evening I like to head out to our screened in patio and read while the rain falls – it's so relaxing. On a beautiful evening, I head out to the front porch and sit on my favorite red rocking chair and enjoy my book while the sun sets.
A Sneaky Pool Day
Sometimes all I want is a pretty view and no one that I know to bother me while I'm being waited on. When I need that, I'll sneak off for a few hours in my swimsuit with my new book and I'll go down the road to a favorite hotel on the water. I'll pick a lounge chair by the pool and let someone bring me cocktails and lunch and just relax in the sun for a few hours. It's minimal – the cost of lunch – though I can't do it too often or someone might begin to wonder if I might not actually be a guest (I'm not).
A Long Phone Call
Let me stress that I really detest speaking on the phone. I'm of the opinion that if it is too lengthy to text, you should first exhaust email or even some sort of private social media messaging before you call me. And really, someone better be on the brink of having a baby or breathing their last breath. Because I really hate talking on the phone. But sometimes when I'm really in need of a good way to unwind, I'll schedule a call with a friend that doesn't live nearby. We get to talk, catch up and have girl time from the comfort of my own home. I love it.
Gardening
I haven't a green thumb, but I've developed a fondness for gardening since my daughter asked me to plant flowers with her a few years ago. I like the feeling of not caring what I look like for a while, getting down into the ground and taking care of my flowers. It makes me feel good. It makes me feel proud.
A Long Walk
Sometimes my husband and I will call his mom and have her come over so we can take a long walk by ourselves. We don't do it in our neighborhood since we see it every day. We go to the ocean or to a nearby downtown area. It's pretty and it's fun, and we always have the freedom to stop for a glass of wine we can sip outside while we enjoy the view. It's relaxing, and it's not expensive.
A Long Hot Shower
My favorite way, by far, to unwind is to take a long, hot shower. Not just any shower – it has to be one that is hot as can be and for as long as possible. It's a lock the bathroom door and turn on the surround sound and let go of everything and everyone else in the entire house. It's a great way to relax and unwind, and all it costs is a little energy.
Send the Family Out
I have a strategic way to relax in my own home. The twins go to bed promptly at 6:30 and are asleep within 5 minutes of being put in their cribs. I like to then send my husband and my girls out for a date night every month or so. They go see a movie, go to the park or do something else fun together for a little daddy/daughter bonding time. This gives me a few hours to sit back with a glass of wine and a good book or trashy television and enjoy the peace and quiet and cleanliness of my home by myself.
A Class at the Gym
One of the best ways to unwind is to work yourself up. It helps that you can get out and have some fun once in a while and get a bit healthier as a result. I love to head to the gym when I need to unwind. But instead of working out, I'll go with my girlfriends to a Zumba or Yoga class and really enjoy all the benefits that those have to offer. It's a great way to relax and unwind, and it's really inexpensive.
A Girls' Night
What you have to understand about our group of friends is that we are all long-time married couples and we do everything as a group. We do some things as a group without the kids (a vacation every year, a long weekend here and there) and we do most things with the kids. And the husbands and wives do everything together. But every so often we will plan an evening for just the ladies where we will go out for cocktails and dinner. It's not expensive, it's fun and it's always the best way to unwind. It's special since it's not something we do very often, but it is something we do when we need it.
Photo by Oli Scarff/Getty Images