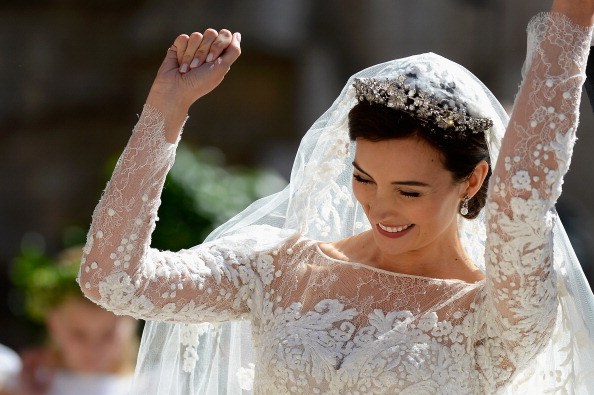 Creativity and intelligence are fostered by a love of reading. It might not be something that anyone can prove, but it's certainly something that no one can deny. Those who grow up with a love of books and literary art tend to have a bigger vocabulary, they are better spellers and they have more creativity and ability to get lost in things beautiful. Literacy is one of the most important gifts any child can receive, and it's something that they will carry with them throughout their lives and into their adulthood. Everyone should be able to read; and not just because it's a school requirement. They should be able to read because it's important; it's enjoyment and education. It's one of the most amazing ways to spend a few hours, and it is certainly something that we should be encouraging our kids to do. Some love to read so much so that they want their weddings to resemble their favorite books. Whether it's an era, a character or a scene in a book, there is so much romance and beauty in the words written on a page. It is the reason so many couples choose to base their wedding around their favorite literature, and we have some great suggestions for book lovers planning their wedding around their favorite author's works.
Ring in a Book
When you propose to a book lover, expect that there will be a lot of books in the planning of your wedding. You will find that this is an important aspect of any good book lover's wedding, and it's something you should do. One of the most amazing ways to incorporate a little literature in your wedding is to put your rings in the pages of a hollowed out book for someone to carry down the aisle on your behalf.
Kissing Behind a Book
It's a private moment to share a kiss as husband and wife, and what better way to do that than behind a book for your photos? Each using a hand, hold your favorite book up over your faces so that you can share a kiss and your photographer can get a photo of the book and your hands. It's romantic and sweet and it's going to create beautiful memories.
Engagement Photos at the Book Store/Library
So many people choose to have their engagement photos in parks, in the middle of the city or even in a studio. What if you make the decision to have your engagement photos taken at your favorite bookstore or library? It makes for a beautiful backdrop for all book lovers.
Library Card Save the Dates
Instead of the standard save the date, put yours on an old library card and send them out. Your guests will love this, and it's going to be something very unique. You don't see a lot of this, so it's something that will ensure your wedding is quite spectacular.
Favorite Book Place Settings and Tables
Place setting cards and table cards are always something of importance at a wedding, and we have a suggestion for you. Instead of using table numbers, use book titles. This will allow you to seat your guests at To Kill a Mockingbird or Harry Potter and the Sorcerer's Stone. It's great conversation and it's so much fun to be able to sit at a table created like a favorite book.
Library Reception
Finding a reception hall is difficult for some, but you haven't considered a library just yet. We love the concept of being able to go to the library, have your reception among the books, dance around your favorite titles and have all things reading related in your photos and memories of your favorite day. Call us old-fashioned and romantic, but we simply adore this beautiful concept.
The Book Cake
Have your baker make your cake look like a stack of books with romantic titles, or just your favorite books. It's a cool way to incorporate your love of reading into your wedding and we simply adore this concept. You can do a cake that looks like a cake with passages on the sides or with your favorite lines from different books circling the layers. Either way, it will be simply stunning.
Favorite Passages on Menus
When you set menus at the table, or programs at the reception, put your favorite passages on them. Let people see where your favorite lines come from. Let them read for themselves the beautiful words authors use to make their innermost thoughts and feelings known. Let the words of some of the most brilliantly creative minds in the world come to life on the pages of your wedding so that people are introduced to the beauty of the words.
Favorite Author Areas
Instead of planning your wedding around one theme, why not have several? For example, set up the food stations as different author areas, such as the main hall from Hogwarts in the J.K. Rowling area. Or have the dance floor look like something from the Great Gatsby and have the photo booth resemble something from the Shopaholic series or even another book series you love and adore. It's your wedding, so you should use as much of the literary world as you see fit when decorating the areas of your wedding and reception.
Book Theme
It's a simple concept, but it's one that many people forget to consider. Take your favorite book and make it into the theme of your wedding. Go ahead; you can do it. Make sure you choose something meaningful to you, and don't worry whether or not it's a typical romantic theme. You can make anything romantic at a wedding. We would just advise against a Hunger Games-type reception in which your guests have to hunt their food and kill their friends to get to their table. But that's just us; you and your friends might feel otherwise about your wedding fun. Really – it's all up to you and your personal loves, likes and desires.
Photo by Pascal Le Segretain/Getty Images