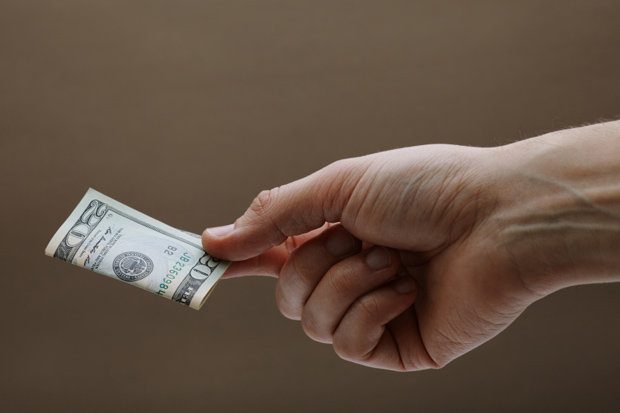 You've made your list and checked it twice – but have you forgotten any of the hardworking people that make your daily life (and sometimes your daily grind) a whole lot easier? One of the most popular questions I get this time of year is around tipping. Just the thought of it can make even the most festive folks feel flustered. Who do you gift? How much? Is cash okay or is a present more appropriate? Below you'll find some ground rules to get you started, a handy guide for proper amounts and a list of some perfect gift ideas that won't break the bank.
Different gifts for different folks.
Did you know the U.S. Postal Service cannot accept cash or gift cards? Only small gifts under $20 like mugs or gloves fit the bill. Before tipping or giving a gift, always call a company in advance and find out what their corporate policies are before you find yourself in the awkward situation of having an employee refusing your well-intended tip due to company policy.
Think about how you'd like to receive the tip.
Would you want dirty bills, loose coins or a check? Be prepared. Go to the bank and get crisp bills. Tell the cashier what you're doing and they're sure to help you out with newly minted money! Use a clean envelope or card and deliver in person before the holidays — and if you can't handle it personally, have a trusted family member do so on your behalf.
Make a list and a budget.
Map out, ahead of time, who you need gifts and tips for. Spend a night prepping the cash and envelopes and writing personal notes as opposed to doing it piecemeal, where you might forget to jot down how much you've given and to whom.
Loyalty and length of service.
One thing to keep in mind as you calculate what you can give is how long you've known this person and the length of time they've been providing this service for you and your family.
Tip Guide:
Au pair or live-in nanny: one to four week's pay, a card from the kids and a gift from you
Babysitter: an evening's pay, plus a gift from your children
Barber: up to the cost of one haircut or a gift
Day care provider: $25 to $70 each, plus a small gift or card from your child/ren
Dog walker: up to one week's pay or a gift
Doorman: $15 to $80. Smaller divided amounts for multiple doormen.
Hair stylist: up to the cost of one service or a gift
Handyman: $15 to $50 or a gift card
Housekeeper: up to the cost of one visit
Mail carrier: small gift under $20 or snacks/beverages that are not part of a meal
Manicurist: $25 to $50 or a gift
Massage therapist: up to the cost of one session or a gift
Newspaper carrier: $10 to $30
Personal trainer: up to the cost of one session or a gift
Pet Groomer: up to the cost of one session or a gift
Pool cleaners: up to the cost of one cleaning or gift card
Sanitation worker: $10 to $30 each
Superintendent: $20 to $80 or a gift, depending on your relationship with your super
Teacher: A gift card or gift certificate for up to $25 or a gift, plus a card from your child; or go in with other parents on a bigger present
Yard or Garden Worker: $20 to $50 or a gift card
For when cash isn't appropriate, you can shop online for gift ideas for every person on your list, including:
Holiday Hosts: Headed to a holiday party? Take your appetizer in this covered baking panand leave it with your host as a gift. The handled lid makes transporting goodies super easy.
New Moms: Stock up on footie pajamas and bibs – new moms can never have enough, like this collection of unisex (and stylish!) sleepers.
Foodies: zulily offers amazing deals on brands you know and trust, like Cuisinart and Waring. Check out what's on sale today in the home section for lots of great gift ideas.
Of course, the best gifts are the ones that come from the heart. Whatever you choose to gift or tip this holiday season, do so with good health and happiness. Wishing you a very happy holiday season!
 About zulily, inc.
zulily is a retailer obsessed with bringing moms special finds every day—all at incredible prices. We feature an always-fresh curated collection for the whole family, including clothing, home decor, toys, gifts and more. Unique products from up-and-coming brands are featured alongside favorites from top brands, giving customers something new to discover each morning. zulily was launched in 2010 and is headquartered in Seattle with offices in Reno, Columbus and London. zulily's shares are traded on the Nasdaq Global Select Market under the symbol ZU. To learn more about zulily and shop for the hottest back-to-school trends for moms of all ages and their kids, go to www.zulily.com
Amy E. Goodman, zulily's Lifestyle Editor
Amy E. Goodman is the lifestyle editor for zulily and author of Wear This, Toss That! Amy covers anything and everything, including organization, budgeting, fashion & beauty, home & entertaining, fitness & family and red carpet. She's demoed yoga, interviewed celebs, cleaned out closets and whipped up hors d'oeuvres for a number national outlets.