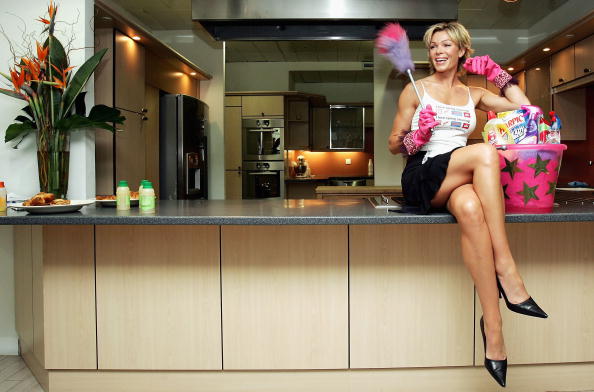 It's the biggest problem we all faced; we hate to clean but we hate filth just as much. All right; I've watched "Hoarders," and apparently filth is not such a problem for everyone. I mean, while I might not take kindly to living in a home in which I have not seen my cat in more than 5 years, there are others that don't mind. As someone who may or may not suffer a touch of OCD when it comes to cleanliness (I vacuum and clean my car daily, clean all furniture, floors, counters, dishes, laundry, bathrooms and bedrooms daily – sometimes more than once) I can say with certainty that cleaning is not my favorite. Sure, sometimes it's a bit therapeutic, and it always leaves me feeling good about my home, but if something else would do it for me, I'd be good.
Okay, I'm lying. I'm not going to be good. I've hired and fired a dozen cleaning companies because they just don't live up to my standard of doing things and my husband- helpful as he is – still cleans even though he knows I'm right behind him re-doing what he has not done to my standards (I sound awful, right?). For those who hate cleaning and would rather let something else do the cleaning for you, we have some amazing products that will seriously do things that will make you feel happy all over. Each of these products pretty much cleans for you.
Microfiber Hop Ball
The cat and the kids will find this quite entertaining. The good news for you is that it will also clean your floors while it's doing that. Talk about double – triple – duty.
Putty
It seems like this might not be a cleaning products so much as something your kids can add to the mess with, but you can use it to clean your keyboard for you. Let the kids get crazy at your computer and this stuff will get all the junk from between the keys without leaving a mess or requiring you to do anything.
The Cleaning Dustpan
Made with teeth, you sweep your junk into this and then run the broom bristles through the teeth to clean them out. See you later dust, cat hair and hair (we have a lot of hair in a house with four women and only two men). It's the answer to my prayers.
The One-Swipe Glasses Cleaner
It's a handle that does the work for you. No, really, it's something that literally just clamps onto your glasses and then you wipe it across and move on. There is no work on your part at all.
Mop Slippers
The next time you decide you need new slippers, get the ones that are made with fibers on the bottom that act as a mop. It's going to change your life forever – and your floors will look amazing. Now you can say that getting up for that second glass of wine is actually doing something productive and no one can argue.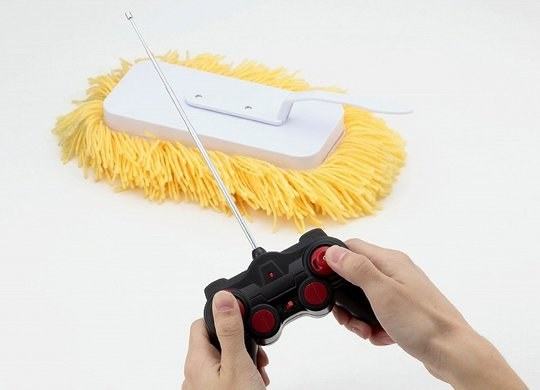 Remote Control Mop
Now you can control your life without actually moving from the couch. You can catch up on emails or enjoy a glass of wine while the mop is mopping the floor at your movements. It's a much lazier and so much more fun way to clean the floors.
The Built-In Toothpaste
It's a lot of work to put the toothpaste on the toothbrush right (wow, we are lazy)? That's why you should absolutely invest in the toothbrush head that screws right onto the tube of toothpaste and squeezes it on the brush for you.
Pre-Loaded Dog Cleaner
How about a sponge made just for the dog that's already loaded with soap? All you have to do is put the dog in the bath and use the brush to clean it up, and the soap comes out as you scrub. Talk about a great item to have in the home; it's this one.
A Trash Can with a Vacuum
So imagine that your trash can has a little vacuum at the bottom so that when you sweep up the mess in the house, it sucks it right into the trash for you? You will never need another dustpan again. And this is what happiness looks like.
The Silverware Cleaner
Stick this on the side of the sink and just slide your silverware right down into it. It's going to use soap and water in it to clean the pieces so that you don't have to do anything else.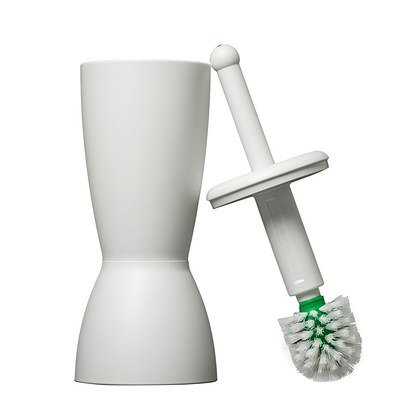 Self-Cleaning Toilet Brush
So this one sounds a little better than it is since it's not cleaning the toilet for you. But it is going to clean itself when you're done using it to clean the toilets. It's not quite half the battle, but it will work, right?
Bissell Stomp and Go Carpet Cleaning Pads
If you're tired of getting on your hands and knees to clean the carpet, stop. Get these and just step on them. They're designed to get stuff right out of the carpet when you do this, and that's what makes it such a nice product to use.
The Onesie Mop
If the baby is going to be all over the floor regardless, you might as well get the mop onesie. It's a onesie with mop fibers all over it so that each time your baby moves, it cleans the floor. It's probably not the best parenting move, but your baby is getting filthy on the floor anyway, right?
Gas Stove Covers
Okay, so for those who have a gas stove or have ever used one, this is great. You know the struggle is real cleaning beneath these burners, and these covers are just to be used, peeled up and thrown away. What an amazing concept.
Kids
I had some kids and I'm looking forward to their teen years. Why? Because they're going to do some serious cleaning for me; like serious cleaning. They already clean their own rooms and make their own beds, but as they get a little older they're going to do their own dishes and laundry and clean their own bathrooms.
What? Did you have kids for a different reason?
Photos by Getty Images, Amazon