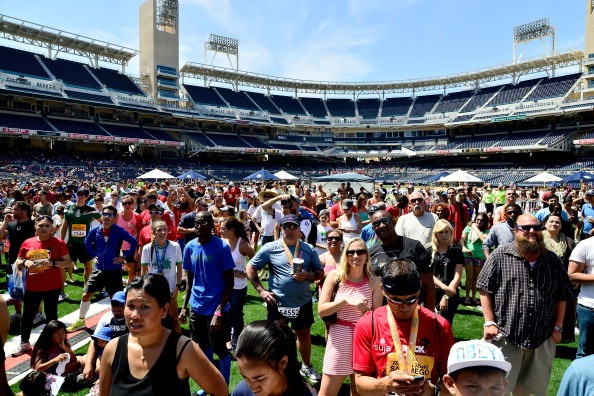 There are so many benefits to running. Even if you've never run a race before, I encourage everyone to walk and run for good health. Take it from me. I was 48 years old when I ran my first marathon despite the fact that my doctor first told me that running really wasn't for me. Today I've run over 50 ultramarathons, including some of the world's most grueling races like the La Ultra The High in the Himalayas. You don't have to go to the extreme like I have. But if you just want to give it a go, these tips offer a great start to starting a solid training regimen for your first marathon. From 5K's to ultramarathons on the peaks of the Himalayas, soon you'll be on the right track to running success.
1. Get fitted for proper running shoes. A good company will analyze your gait and make suggestions to give you the best and only equipment you need to start running.
2. Start out easy and fun! For beginners, I recommend using the Jeff Galloway walk/run method to start training. It's an easy way to ease into running while lowering your chances for injury. Start easy and fun. There is lots of time to add speed and strength training.
3. Hydrate, hydrate, hydrate. No matter the season, remember your hydration. With temperatures or altitude rising make sure you have adequate amounts of water before, during and after exercise. For longer runs carry a handheld running water bottle. It straps right on your hand for efficient running.
4. Dress cool. Clothing affects your performance. Choose running clothes that are DryMax or CoolMax fabrics. This type of clothing keeps you cool. Cotton will stick to your skin, absorb sweat, and become heavy and uncomfortable. Also remember this when choosing socks. Cotton socks can lead to blisters so grab some socks that are made for running with fabric that breathes.
5. Pick a winner. Running without having a goal can leave you unmotivated. Choose a race with a distance that you have never accomplished before. Set a goal. Then start a sensible running plan that helps keep you motivated and moving toward your goal.
6. Journal. Write down your progress and track your miles. It's a great way to measure your improvement and accomplishments.
7. Stay motivated. To keep you motivated week to week , try running with a friend and/or hiring a coach. Coaches help you stay motivated and help assist with your goals. They also make you accountable!
8. Be Patient! It takes time for your body to adjust and time to get to your next level of fitness, but it's worth it. Enjoy the changes that running brings to your mind, body and spirit. There is no better, easier and more affordable way to keep fit than grabbing those running shoes and heading out the door. There is a life full of adventure and freedom right down the street on a trail near you.
Photo by Jerod Harris/Getty Images for Rock 'n' Roll Marathon Series