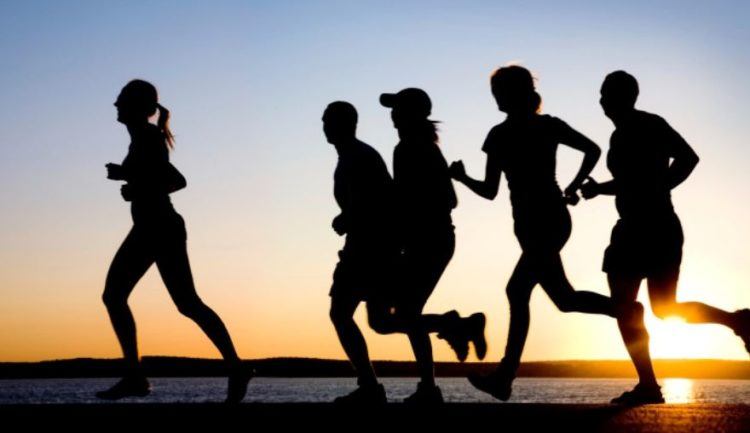 One of the brutal truths about fitness is a lot of people are unhappy about the way they look. Unlike the yesteryear people, most of the modern day youth do not have healthy eating habits. A lot of men and women are overweight or skinny. Either ways, that means not-so-great body shape. In order to get their body in good shape, people are going for unhealthy options like fat removal surgeries and other cosmetic measures to enhance their overall appearance. If you were just thinking about going for a tummy tuck surgery, then it's safe to change your mind. The following tips will show you how you can score a perfect body naturally.
1. Exercise Daily
Many people stick to the 6-1 exercise routine. i.e. six exercise days and one cheat day (doing no workout and eating ice creams and cakes). Keep in mind that cheat days are a myth and a big spoiler for your weight loss goals. There is something called 'rest day' for people who train like six to seven hours a day. These are professional bodybuilders and mixed martial artists. But for the common people, any exercise that kicks up the heart rate is highly recommended seven days a week, 30 days a month. Simple exercises like walking and jogging for about 40 minutes daily will only help you stay in great health and shape, so do not skip any day. Regular exercise, when combined with the right eating habits, will give you superior results; whether it's for weight loss, bodybuilding or just staying fit and healthy to live longer. Here's an all-inclusive Infographic from Garage gym planner that has worked for thousands of people.
2. Constantly vary your exercise routine
The majority of folks that are on weight loss are very happy either jogging or walking a few miles daily. But, months later, they are disappointed with mediocre results. The reason? It's because they choose the mediocre path to weight loss. The truth about successful weight loss is, if you stick to just one or a couple of exercises, your body doesn't give the best results. But instead, if you constantly vary your exercise routine, then you will be able to see 30% to 40% improved results.
Multiple exercises are a highly recommended choice even for professional athletes. Can you think of a single bodybuilder that has done just one workout for a particular muscle and won the Mr.World or Olympiad title? Definitely not. Even if you are targeting a single muscle, you need to do at least 4-5 workouts to get superior results.
In addition to results, multiple exercises also help improve your motivation and confidence, which is very important to keep going forward.
3. Include weights in your workout routine
If you are an amateur fitness person, then chances are that you decided to skip weightlifting because you didn't want to gain muscle mass and look like the real-life "hulk". However, it's important to note that weights aid in the overall development of muscles and not just to gain mass. In other words, you can use weightlifting to your own advantage. Wear the best weightlifting shoes and start working out.
Work with lighter weights if you wish to develop lean muscles and strong joints. Do more reps. In fact, this is the magical formula of all the sexy male and female fitness models that you see on the Internet and TV.
Circuit weight training is highly recommended if you wish to develop lean muscles and get your body size right.
4. Never miss your Recovery Meal
Did you think that eating after working out will gain more calories and ruin your efforts? Well, actually it doesn't. It works the other way round, if you take the right supplement after workout.
There is a reason why fitness experts recommend taking a post workout meal that is high in proteins and vitamins. Such foods help restore lost energy without gaining bad calories. After a 60-minute aggressive workout session, your muscles will weaken and lose strength. For your workouts to have a real impact on muscle development, it's important that you nourish your muscle fibers with proteins, vitamins, and minerals with a post workout meal, which is also called 'recovery meal'.
The best post workout meals include protein shakes, fruit juice and vegetable salads.
5. Drink a lot of water 
Water is a silent calorie burner. The fact that it has zero calories makes it safe to consume in more than adequate quantities even when you are on weight loss. What's even better is that it takes up some amount of energy to burn completely.  In other words, you burn more calories by drinking more water.
In addition to that, water is also known to be a great metabolism booster. It's important for people who people who aspire to be fit and healthy and even to those who don't! During summer, a few glasses of cold water is what you need to prevent your mouth from drying out. During the colder months too, a few cups of warm water keeps you feel warm and hydrated.
Risks associated with lack of water intake include muscle loss, tiredness, dehydration, and kidney stone formation. Make sure you drink at least 12-15 glasses of water every day.
6. Stay Focused
Don't expect results if you are training your biceps thinking about last night's baseball match. Exercise needs focus, so it's important that you visualize your targeted muscle area. The brain and body should work together to deliver results, so when you convince your brain to focus on your workout areas, you get better results.
A lot of fitness experts have daily and weekly goals to work out certain muscle groups, and this is probably something you can incorporate in your training routine.
7. Go outdoors
Exercising outdoors is linked to increased energy levels and motivation and better results than indoors. National Institutes of Health discovered that people who burnt 270 calories in 30 minutes at their home/gym were able to burn 300+ calories when they did the same workouts outdoors.
8. Diet
No matter how hard you train (at the gym or outdoors), you're only halfway through. More than 50% of your health is determined by what you eat. That's one reason why even professional athletes fear a single slice of pizza or burger could easily neutralize the effect of an hour's training at the gym.  
Balanced diet and multivitamin supplements are highly recommended in all four seasons if you wish to stay healthy and improve the results of your fitness training.
9. Freshen Your Breath and Your Muscles
Have you seen a lot of people take mint in the gym and wondered why? Well, that's because taking mint is beneficial for exercise in a number of ways. By the way, we're talking about peppermint and not the gum. The benefits include freshened breath, improved stamina, and better oxygen supply to the brain.
This is something you need to experience than research. The next time before when you hit the gym or head outdoors for jogging or swimming, take a solution of two drops of peppermint with one glass of warm water. And see the result.
10. Learn the Ropes
If you restrict your weight loss training to just running and swimming or may be cycling, then you are missing something. According to fitness experts, skipping is one of the best exercises to burn more calories and tone your leg muscles. Every professional athlete and bodybuilder uses ropes to train their leg muscles for better results. The best part is, you can carry your skipping rope wherever you go and do it even at your hotel room.
Which of these will you recommend to your friend? Which is your favorite tip? Do comment your answers below.