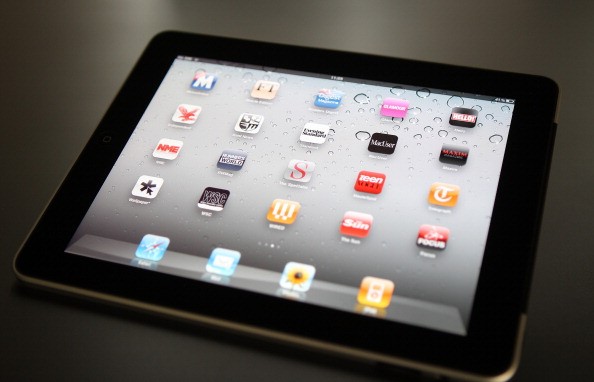 Some parents run straight to the doctor at the first sign of a cough, sneeze or anything even remotely related to what could be a lack of good health. Other parents, like myself, have four kids and a crazy busy schedule and we will do just about anything to avoid a trip to the doctor with all the kids in tow so that we don't expose them to the germs in the office and so that we don't spend three hours sitting around waiting for a walk-in availability for a last second appointment. That means moms like me will love these amazing health apps that all moms should know more about. They're designed to help you out when you need it, and most of them are designed, created and cared for by doctors and medical professionals so that the information is always as relevant as it needs to be. Read on and start downloading.
5-2-1-0 Kids
This free app is designed to target the overall health of kids between 4 and 9 by teaching them new games and activities that will get them up and moving, as well as teaching them about healthy food choices. It's like a game that makes them healthier, and that's a win-win for all involved. When kids are engaged in their own health and wellness, it makes things a bit easier for all involved, and it makes things very comfortable all the way around.
Eat Sleep
This is a great app that works as a daily tracker for all the important moments in your baby's day. For example, you can record sleeping and eating schedules, medications and everything in between. This allows you to keep a detailed manifest of information you can review at a later date to see if there are any significant changes about which you should worry or if there are any routines or habits your child is breaking so you can plan accordingly.
Kurbo
If you have a child or teen that needs to lose weight for health purposes, this free app is going to prove them the help and support that they need to do that. It's actually a mobile version of a healthy obesity program designed by the Stanford Lucile Packard Children's Hospital's pediatric ward, and it's great information.
Moms1stDoctors2nd
One of the things that parents love most is being able to ask other friends of theirs that are also parents for some health advice. It's natural, and it's a first instinct. None of us wants to schlep all the kids to the doctor in the middle of a snowstorm and expose everyone to all the germs in the office just to find out it's something minor and easily diagnosed, so asking other moms who are actually doctors is always a great idea before heading to the actual doctor. That's what this app provides.
30Second Mom
Here's some parenting advice that won't make you feel as if you are being bombarded. It's all been narrowed down into 30 second intervals so that you can get what you need and move on without feeling confused or drained. The content is created by a group of moms who are doctors, so it's really good stuff on two fronts.
TempTraq
This is a device that works with an app to ensure that your child is healthy and that you are always aware of what is going on with your child. It's a wearable thermometer your kids can have on overnight and anytime during the day. It sends alert to the app on your mobile device and lets you know how your child is doing. It's really just a great app that will probably let you get a bit of sleep at night for lack of worry since someone else is doing all the hard work for you.
InfantRisk Center
This app is great for parents and even pregnant moms-to-be. Updated daily, this app provides up-to-the minute information regarding more than 20 thousand different prescriptions that allow you to see what the risks are, whether or not they are safe for babies or children with certain allergies, health issues or even for women who are breast feeding or pregnant. This information is provided by medical professionals, so you can trust that it's accurate and up-do-date. And the site is updated every single day to make it even easier for you to understand.
Doctor on Demand
Here you go; a visit with a board-certified pediatrician on demand via video conference is what this app provides to parents. It's much easier than taking the child to the doctor for something minor, but it does make everyone feel much better. The best news is that your first visit is free and your subsequent visits are only $40. It might be higher than your insurance deductible, but it's a lot less stressful than getting everyone to the doctor's office and waiting.
Total Baby
Forget that folder that you get at the hospital from the doctors that allows you to track your baby's feedings and changes and everything in between. This app does it all for you and it's much easier to use than tracking down a piece of paper, finding a chart and then looking for a writing utensil. You can input information with one hand while you nurse the baby in the other, and life is going to be so much simpler. This is an app I wish I would have had 7 years ago with my first. Because, you know, we didn't do the tracking everything stuff with our second – but we were a little better about it with the twins since they were so small and we were required by our pediatrician.
Baby Bundle
This is perfect for the first two years of your baby's life. It allows you to track appointments, shots, immunizations, your child's photos, a monitoring tool and other items that are so important. The best part is that this app was created by a mom who is also a pediatrician, which always makes parents feel good.
Photo Illustration by Peter Macdiarmid/Getty Images