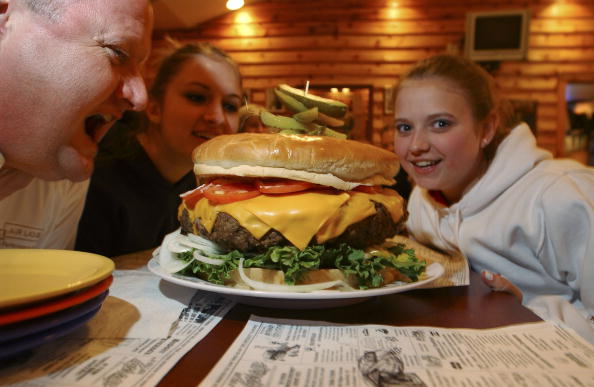 One of America's favorite restaurants, In-N-Out Burger,  is one of the best tasting meals anyone can have. Sure, that might sound a little contradictory considering it's a fast food joint that serves up burgers and fries, but for anyone who has ever been before, you know just how delightfully addicting this place really is. And while everything that In & Out offers is mouth-watering, there are some who may not know that they actually have a secret menu that people can order from. That's right, just when you thought it couldn't get any better, I go and tell you something like that! So if you're making a trip in sometime soon, don't just settle for what your eyes are reading above the register, because now you can hint at some of the special items that I'm about to tell you about—so be prepared to feel really special with these secret indulgences on the In and Out Secret Menu.
10. Shakes
It's hard for some people to imagine a fast food joint like In & Out not actually including milkshakes on their normal menu, but, rest assured, that's how the place has it. Still, that doesn't mean that you can't satisfy that sweet tooth tempting you when you walk in. That's because, thanks to this little secret, you can order the standard flavors of strawberry, chocolate and vanilla to get that fill. Sounds sweet to me—pun intended.
9. Cheese Fries
Remember being in middle school and loading on all of that nacho cheese on top of your french fries at lunch? No? Oh, maybe that was just me? Either way, if you haven't had cheese on top of fries before, I highly suggest it. Let's face it, cheese that's smothered on top of anything makes it about a million times tastier, so doing it on french fries might just make you the happiest person on the planet. Remember to eat in moderation, though, because while these are delicious, they're also pretty heavy in everything your doctor suggests eating too often—which is why the cheese fries are so good.
8. Mustard Grilled Patty
I know that it might be an acquired taste, but the Mustard Grilled Patty at In-N-Out is something that everyone should try at least once in their lifetime. Prior to getting tossed on the grill, the restaurant slathers it in mustard, giving it a unique taste that is both uncommon and unmatched by anything else they serve. It might taste super heavy on the mustard, but I bet that you'll still enjoy every bite of it.
7. Flying Dutchman
So what's the Flying Dutchman, you ask? Just about the most basic burger you'll ever have—with just the necessities anyone wants on one, anyway. Tossing out the bun, In-N-Out keeps things as simple as possible with this burger, stacking two, beef patties on top of one another and adding two slices of cheese on each one. You'll probably want to eat with a knife and fork to save yourself from greasy hands, but no matter how you stuff your face, you'll enjoy every single bite. It's sure to be cooked to perfection, too.
6. Neapolitan Shake
Now that I've told you that In-N-Out actually does have milkshakes—when you know where to find them—don't struggle with which flavor you're looking to indulge in. That's because, if that should occur, you should just go with the Neapolitan option, which takes strawberry, vanilla and chocolate ice cream and blends them all together for an amazing choice. Just like the ice cream that bears its name, this shake will undoubtedly leave you happy with the many different flavors your taste buds are experiencing.
5. Fries, Well Done
Want to make your friends jealous by having the crispiest french fries at the table? Go ahead and give whoever takes your order a little wink and go with the well done french fries. As someone who doesn't like a limp, flimsy fry, this is the way I would personally go. Depending on just how crunchy you want them, they may actually resemble a tasty potato chip over a french fry. There's no other way to go if you ask me!
4. Protein Style
For those who are looking to cut the carbs out of their meal, go ahead and get yourself this burger—which is the standard In & Out burger wedged between two pieces of lettuce as opposed to bread buns. While it's not as carb-heavy as the original option, it's still just as amazing to eat, with the toppings including the same things as pickles, tomato, onions and cheese—but you just won't feel as bad about yourself for eating it.
3. Animal Style Burgers
As someone who recently just converted to being a full-time vegetarian—I know, what was I thinking, right?—this isn't something that I can enjoy any longer, but for those who are looking to get really messy, I would absolutely suggest it. That's because the Animal Style option at In-N-Out combines an incredible beef patty that's completely smothered in mustard before cooking, then topped off with the normal ingredients like lettuce, tomato, pickles and extra spread for even more flavor. Make sure to have lots of napkins with this one, though.
2. 4 x 4
Are you still struggling to feel completely full after eating just one, regular In-N-Out burger? No need to just order another one, because the restaurant offers the option where you can get four patties between two buns, making this 4 x 4 burger one of the tastiest—and most insane—things that yo can order. Topped with four slices of cheese and veggies to make you feel a little bit better about yourself, you'll be extremely excited at the very thought of this on your tray—and then maybe a bit regretful once you actually eat the whole thing.
1. Animal Style Fries
Much like the aforementioned Animal Style Burgers, the restaurant also gives its customers the chance to really add the meat to their french fries, too. Topped with a ton of meat, grilled onions, pickles and a ton of cheese, these things will make you hope that you never actually finish the entire serving—that's how good they are. And if you really want to go crazy, go ahead and ask for the fries to be well done so you have the crispiest potato straws with the most delicious toppings known to man or woman.
Photo by Jeff Swensen/Getty Images