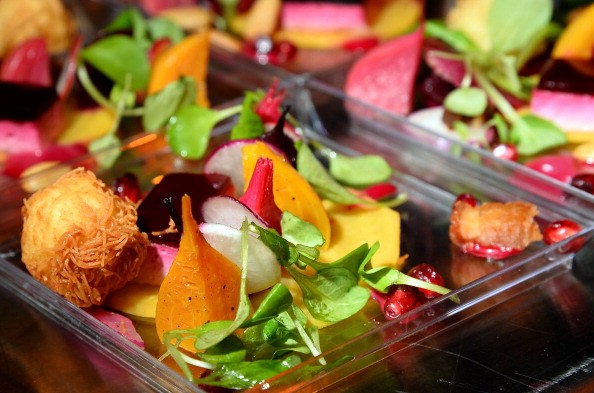 Spring is here and we all want to be a bit healthier. There is just something about the fresh air, the beautiful blue skies and the amazing weather that makes you want to eat a meal that's healthy and decadent and amazing. Perhaps it's just the fact that we're all over junk by now what with the passing of the holidays, Valentine's and now Easter; we are junk food finished by now. It's time to get in shape, eat something healthy and remind ourselves that good eating is just as healthy as can be. In fact, we did this tonight. After an indulgent night last night at a charity poker run where we filled up to the max on beer and pizza and a down home seafood boil, we make the decision to make three of the recipes on here, enjoyed it with a glass of chilled sauvignon blanc and had a night that felt much healthier than last. We recommend everyone makes a few of these recipes throughout the week to feel good, healthy and full.
Edamame
This is one of our favorite spring recipes because it makes us so happy. Edamame is so good for you, and we love it like this. All you need to make this recipe is a bag of unshelled edamame, some olive oil, a few pieces of minced garlic, some light bread crumbs (Panko makes the best), some fresh parmesan cheese and a few minutes time. Mince your garlic and toss it into your food processor with a few tablespoons of olive oil. Stick your edamame in a small Ziploc bag with a few drops of water inside the bag and the edge of the bag slightly unsealed for air to escape. Microwave it for two minutes on medium heat. When your olive oil and garlic mixture is nice and mixed, toss it into a warmed pan on the stove and add the edamame to it, mixing it nicely for few minutes while it all warms up. Then transfer the ingredients into a serving bowl, add a handful of bread crumbs and parmesan cheese to the top, mix it all together and serve. It's amazing.
Chocolate Covered Strawberries
We love this because it's healthy and a little sweet, and it's really good for you if you use dark chocolate. Just melt your dark chocolate and dip your strawberries into it about half way. Let it harden and then serve. We like it cold in our house, so we always put them in the fridge for awhile first. It's a healthy dessert alternative for all families.
Lemon Butter Salmon
Another favorite spring recipe in our house, we like to buy some fresh salmon and bake it. All you have to do is cut a lemon into four pieces. Grab two sizeable pieces of aluminum foil and lay them on the counter. Put two piece of lemon together on each piece of foil. Put your salmon on top of the lemon, add a small piece of butter to the top of each piece of salmon, sprinkle it with a bit of salt and pepper and drizzle some olive oil over top. Wrap it all up nice and tight and bake the salmon until it's done. You can grill it, too. It's amazing when you unwrap it and all that flavor is in there.
Kabobs
We are very healthy eaters in our house, and that might show a bit when you look at the recipes I love to share. To be honest, it's my husband that makes them so well since I'm not big on cooking (and by that I mean my husband would like for our house not to burn down so he likes to do the cooking). Just grab some kabob sticks (We soak wooden ones in water) and we add shrimp, chicken, red bell pepper, green bell pepper, and onion to ours. We then grill them with a little olive oil and seasoning sprinkled on top and enjoy. So good; I promise.
Pineapple Kabobs
We don't have a lot of desire for sweets around here, but we do love fruit. We like to cut up pineapple, put them on kabobs and sprinkle them with a bit of cinnamon sugar and then grill them. It's sweet, it's decadent and it's just plain good.
Mozzarella Salad
It's not really a salad so much as a little side dish that everyone loves, but we do like to make it often. All we use is a package of cheery tomatoes, some fresh mozzarella cheese cut into small pieces (do not cheap out and buy the prepackaged stuff – go fresh) and some fresh basil in addition to a little bit of balsamic vinegar. We put it all in a bowl (cut the basil into small pieces) and mix it together and enjoy. Sometimes we make them on little toothpicks and sprinkle the balsamic on top – it's good.
Summer Salad
There is nothing better than a cool salad on a beautiful day, and we love this one in our house. Start with romaine, spinach, strawberries and some candied walnuts. Mix everything together in a big bowl and then add some olive oil mixed with raspberry vinegar together and pour it on top of the salad. It's amazing.
Fruit Smoothie
Sometimes you just want something delicious to drink when you begin the day, and that's where this amazing smoothie comes into play. All you have to do is use a cup of your favorite frozen veggies, some fresh banana, a handful of spinach and/or kale, a cup of Greek yogurt and a little bit of vanilla extract. Put it all in the blender, put it in a nice big cup and enjoy. It's delicious, cool and amazing for you.
Turkey Burgers
We love this in our house. My husband is the master. He mixes some ground turkey with onion soup mix (straight from the package) some of his favorite seasonings (everyone likes them different) and then he grills the burgers, adds some grilled red and green bell pepper and grilled pineapple to the top of the burger. We put it in our favorite bakery buns and serve; it's amazing and delicious.
Broccoli Baked
What you need is a head of broccoli, some olive oil, fresh garlic – minced – and some salt, pepper and lemon pepper to taste. Put your broccoli into an oven safe dish, drizzle olive oil all over it and then add your seasoning to taste. Bake the dish for 25 minutes on 350 degrees and enjoy. It's amazing and delicious.
Photo by Ethan Miller/Getty Images for Vegas Uncork'd by Bon Appetit