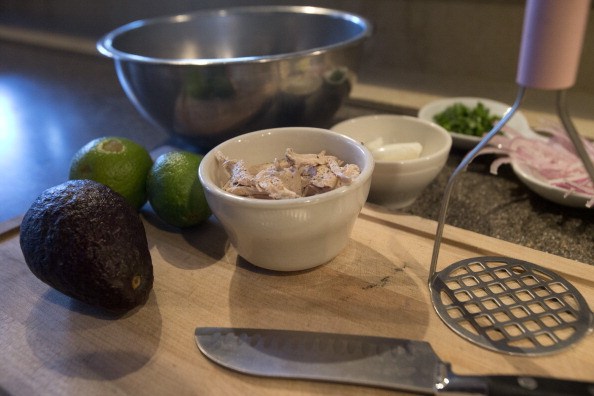 One of the most amazing things about cooking at home is that you can modify any recipe you want to make it what you need. You can make unhealthy recipes healthier. You can make big recipes smaller. You can make expensive recipes inexpensive. You can do anything you want and you can do it with ease. What we love is that cooking at home is not just for people who cannot afford to go out and eat or people who want to eat healthy; it's for all people. Eating a home is a great way to bond as a family because you can make your meals together. You can get in the kitchen and spend time cooking together as a family. You can teach one another new recipes and you can make sure that you all have a good time. You're all learning together, spending time at home enjoying your house and just being a family. And even if you are on a strict budget, it's very easy to cook at home for every little. In fact, we can help you save a ton of money by providing you with 10 recipe ideas that cost less than $5 to make. That's right; less than $5. It sounds impossible, I know. But we are assuming that you have most of these ingredients already at home left over from mother meals and/or just because they are the kind of ingredients that just sit in your pantry or fridge forever without being used.
You might have to make a trip to the store for a few of the ingredients, but what we're doing is providing you with 10 meals. This means that what you need from the store will cost you less than $50 to purchase, and it will feed you dinner – and maybe lunch – for more than a week. So assuming you have some of this stuff at home and you really only need a few of the ingredients, we've got you covered.
Fajitas
This is a simple dish assuming you have chicken at home already. All you'll need for this is a few bell peppers, an onion, sour cream, shredded cheese and tortillas. Just bake your veggies for about 20 minutes, cook your chicken through, mix everything together with a $.50 package of fajita mix and serve it up. It's delicious and very inexpensive.
Tacos
It's the same concept as fajitas, but all you need is ground beef or turkey, lettuce, tomato, onion, cheese, sour cream and tortillas. Just cook your meal as you normally would your tacos, serve them and enjoy. This is a great way to have a fun and simple dinner one night at home without much effort or expense.
Tennessee Chicken
If you have a crock pot, you can make this with no expense whatsoever since most people already have the ingredients listed. What you need is a package of chicken, a can of cream of mushroom soup, a can of cream of chicken soup, some Italian seasoning and a package of cream cheese. Mix everything together in your crock pot and turn that thing on low for 8 hours. You'll serve it over a bowl of penne pasta and enjoy with a bit of parmesan on top. It's amazing, trust me.
Roasted Chicken and Broccoli
You can buy a whole chicken, stick in the oven or the crock pot and cook it with a bit of olive oil and your favorite seasonings on top. Then you can go ahead and cut up some fresh broccoli, place it on a pan with a little olive oil, some salt and pepper and a little garlic and roast it in the oven for approximately 25 minutes. It's amazing; I promise.
Bowtie Pasta
Start by heating a pan of olive oil and minced garlic very low. Add some cherry tomatoes, halved, to the mix and let it simmer for about 5 minutes. While this is cooking, make a pot of your favorite bowtie pasta according to the instructions. When done, pour your garlic and tomato mixture into a large bowl, add the pasta, sprinkle some freshly cut basil and some fresh parmesan cheese on top and serve it in a bowl. It's amazing.
Breakfast for Dinner
The good news is that this meal is practically free because we all know you have most of what you need for this at home. Bread for French toast, stuff for pancakes, eggs, bacon and whatever else you like to eat for breakfast will make a wonderful inexpensive and very fun meal any night of the week.
Grilled Cheese Done Right
We enjoy a good grilled cheese sandwich, but we like it done right. What does that mean? That means we like the one that has some really nice cheese on it rather than the plain old boring cheese kids like. So go ahead and make yours on some good gourmet bread with a little brie and even some avocado to make it even more amazing.
Lasagna
Most of the ingredients you need for this simple meal are already in your fridge and freezer, but the ones you don't have already won't cost much at all. You can take your favorite recipe from childhood and make it your own, copy it to the tee or whatever you want to do. It's all about how you like it.
Grilled Chicken Pasta
My husband makes this a lot when we are in a hurry, and it's my favorite. He dices some cherry tomatoes and minces a few pieces of garlic, puts them in a small pan with some salt and olive oil and lets everything soften. He makes a pot of pasta – whatever we have on hand – and he takes a few pieces of chicken, dips them in bread crumbs very lightly, cooks it in just a touch of olive oil and then puts everything in one bowl. He then tops it with a little feta cheese and it's game on. delicious and simple and inexpensive.
Chili
Perhaps the world's cheapest and most amazing dinner on a cool night, chili costs nothing to make since you have everything at home or can buy what you need for under $5 to create this dish. If you use this even just once a month, you'll save a bundle on grocery costs.
Photo by Mike McGinnis/Getty Images for HumanaVitality